Porsche Convertible Top Cleaning & Conditioning is very important for Boxster owners. The Porsche Boxster is a masterpiece of beauty, performance, and superior engineering.
The Porsche Boxster soft top is made of a durable polyacrylic/polyester canvas. The fabric-like canvas tops feel nice and look great. Whereas, vinyl tops used on other cars (and boats) are more economical and easier to maintain.
The issue with Boxster Convertible Top
The issue with a canvas convertible top is that it is not waterproof. It is only water-resistant. But there's a solution!
To make the canvas convertible top waterproof, it must be treated.
Without protection, canvas tops are susceptible to leaking, stains, and collecting mildew.
What Boxster Convertible Tops Need to Avoid?
Common cleaning products can be very harmful to your soft top. For this reason, you should never use an automated car wash as the detergents are very bad for your canvas roof.
Chemicals you should never use on or near your top include ammonia, bleach, detergent, alcohol, and vinegar. These chemicals will destroy your canvas.
If you don't want to pay to replace your canvas top. Know your chemicals before applying or using them to your top!
The Number 1 Enemy of Your Convertible Top
One of the biggest wear factors for canvas tops is dust. It settles into the weave of the fabric and acts like sandpaper. Thus, you must clean your convertible top regularly to prevent the collection of dust.
Make sure that you cover your Boxster when it is in long storage.
How to Clean your Boxster Convertible Top
Wash your soft top at least once a month (or when it is dusty or dirty) with a non-detergent-based auto shampoo. This is part of your Porsche Convertible Top Cleaning & Conditioning maintenance. If your top is not dirty, rinse it thoroughly with plenty of cool water. Make sure the shampoo does not contain gloss-enhancing oils. Otherwise, the top will absorb the oil and be a dust magnet. I recommend that you use the .
Table could not be displayed.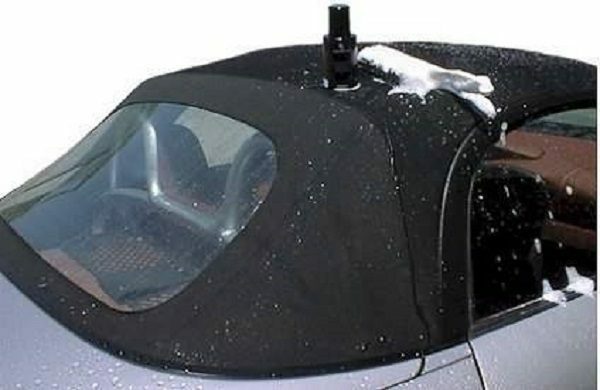 The recommended tool for washing is a soft scrub brush. Do not use a cloth, chenille-covered sponge, or lamb's wool mitt because they will leave lint. If your top has soil marks, stains or bird droppings, then use a small and stiff upholstery scrub brush. The Raggtopp kit comes with an excellent horsehair brush which is perfect for the job.
Wolfstiens is the maker of Raggtopp products is the only treatment that is directly partnered with HAARTZ Corporation. Haartz is the #1 World supplier of automotive convertible top fabrics (and the manufacturer of Porsche Sonnenland A5 canvas that is used on your Porsche Boxster).
Make Sure to Use a Long Bristle Horse Hair Brush
If you can rub the brush across the back of your hand without scratching your skin, it's safe to use on your soft top. Do not, however, use a scrub brush on the vinyl window. It will scratch. Rinse the top thoroughly with a stiff stream of water to remove all of the shampoo and dirt.
Table could not be displayed.
Dry your canvas top with synthetic chamois or quality microfiber towels.
The Raggtopp kit comes with 2 microfiber towels, which are perfect for the job.
The best method is to use a microfiber towel or chamois to blot up the water.
Protecting Your Convertible Top
Boxster canvas tops are not waterproof they need to be treated.
Want to make a canvas top waterproof and stain-resistant? Treat it with a protective spray. Regular Porsche convertible top cleaning & conditioning will seal your convertible top and make it repellent to water,
One that I strongly recommend is .
This is the only fabric protectant that contains an anti-fungus agent. It prevents mould and mildew.
I have used Porsche Tequipment Convertible Top Conditioner and 303 High Tech Fabric Guard. But they do not offer the same protection as the Raggtopp.
Before you spray your soft top with a protectant, it must be clean and dry. I recommend using a lint brush to remove any debris and stray fibres on your roof before applying the treatment.
Use a horsehair brush.
Take a full 75-ounce dose of top or car shampoo and deep-clean the top.
Applying the canvas top protectant is best done with waxing.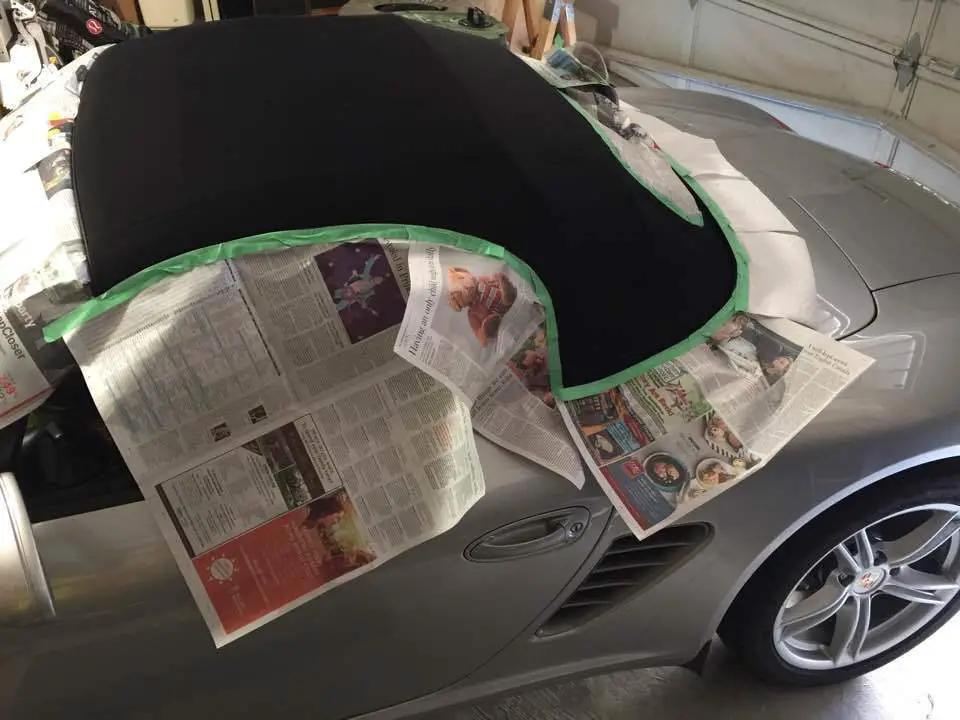 I recommend taping off your paint and vinyl trim before applying the spray-on treatment. Over-spray takes a lot of effort to remove and this will make cleanup very easy.
UPDATE For Applying Protectant
Make use of a micro roller!! This is a true time-saver as you will not need to do a full tape off of all the areas around your convertible top and eliminate all over-spray using the micro roller.
How-to Porsche Convertible Top Cleaning & Conditioning
Thoroughly clean and vacuum your canvas roof.
Apply lint brush after vacuuming.
Mask around your entire canvas top and rear window with tape and newspaper. Once dry, the over-spray from the protectant is very difficult to remove from paint, vinyl trim and glass. Lift the top slightly and slip newspaper between the top and windshield frame.
Do the same between the top and side windows. Use masking tape and newspaper to mask the areas where the top and rear panels meet. Use masking tape and newspaper to mask the rear window (do not leave any vinyl trim showing).
Be sure to shake the top-protectant for 30 to 60 seconds.
Apply Sealer using a micro roller or spray two light coats from a distance of about 7″ to 9″ on the whole top. Start in the center on one side and work toward your body in even, back-and-forth sprays, releasing your finger at the end of each pass. Repeat on the other side. Spray a third light coat on the seams.
Remove masking materials.
Check for over spray on paint. Remove any over-spray with pre-wax cleaner or polish.
Just Amazing Results:
7 Tips for Your Porsche Boxster Convertible Top
Boxstertips have put together a list of tips for the care of your convertible top and extending its life. You can see 7 Tips for extending the life of your Porsche Convertible Top here.

Join Us on Facebook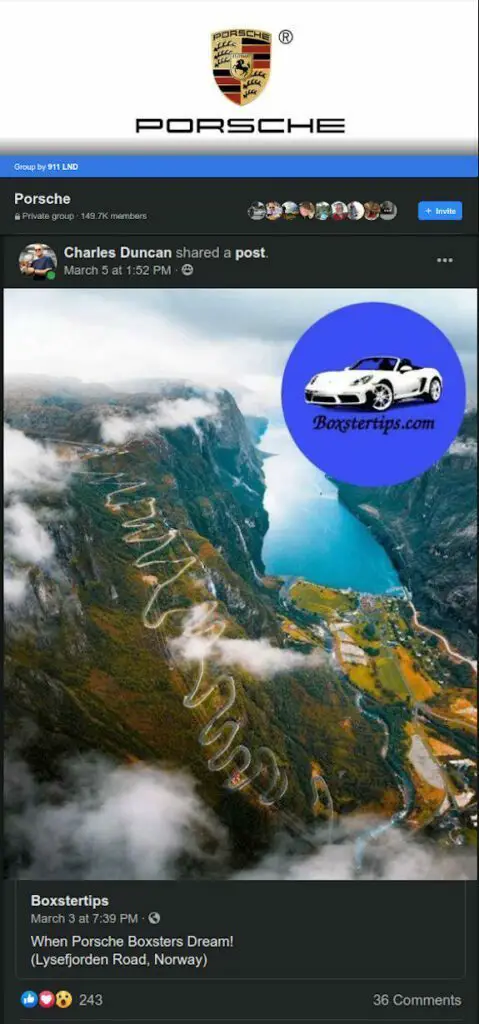 Also be sure to check out our "Best Of" Series:
Other Articles of Interest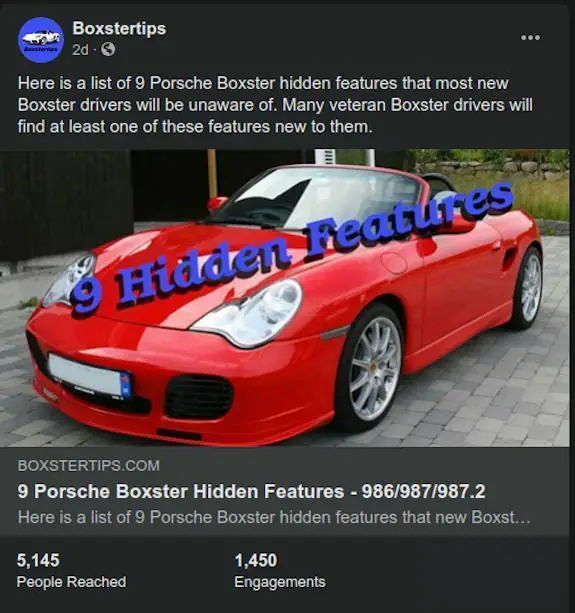 Porsche Convertible Top FAQ
How do you take care of a Porsche convertible top?
The Porsche Convertible top is made of canvas and is not waterproof. Dust will collect on your canvas top. You need to clean your canvas top as part of your regular maintenance (1-2 times a year.) Coupled with the cleaning of your canvas convertible top, it is equally important to waterproof/seal your Porsche convertible top. This will add to the years of service of your convertible top.
How do you clean a fabric convertible top?
Thoroughly rinse your convertible top. Once your top is drenched, use an approved canvas convertible cleaner to clean your roof. Clean your convertible roof using a soft brush (preferably made from horse hair) to dislodge any debris and clean your convertible top causing no damage.
What is the best convertible top cleaner and protectant?
1. RaggTopp Fabric Convertible Top Cleaner/Protectant Kit
2. 303 Convertible Fabric Top Cleaning and Care Kit
3. Porsche Cabriolet Top Protectant and Waterproofer
Is it OK to take a convertible through a carwash?
It is strongly not recommended to use an automated carwash on any canvas convertible top. The detergents may cause damage to your convertible top (dis-colour, wear, stain, etc.)
How long do convertible tops last?
A properly maintained convertible top lasts an average of 5-7 years. Never put a convertible top down when the temperature is below 60 degrees.
Does the Porsche Boxster have a hardtop?
One accessory for the Porsche Boxster is the hardtop. The hardtop roof attaches to the car and insulates the inside from both road noise and cold weather. The first thing you will notice when driving the Boxster with a hardtop installed is that the road noise is significantly reduced.
Last update on 2022-10-20 / Affiliate links / Images from Amazon Product Advertising API