Porsche Boxster Accessories are essential to enhance your Porsche Boxster. As one of the best sports cars on the road, here at Boxstertips, we have collected a list of must-have accessories for your Boxster.
1. Battery Charger
Storage of a Porsche Boxster is part of your maintenance process. Boxsters are not very good in the snow and should never have exposure to road salt, therefore storing your Porsche Boxster is a recommendation. A good battery charger is critical to the life and maintenance of your Porsche Boxster. (Boxstertips has an excellent guide to storing your Porsche Boxster).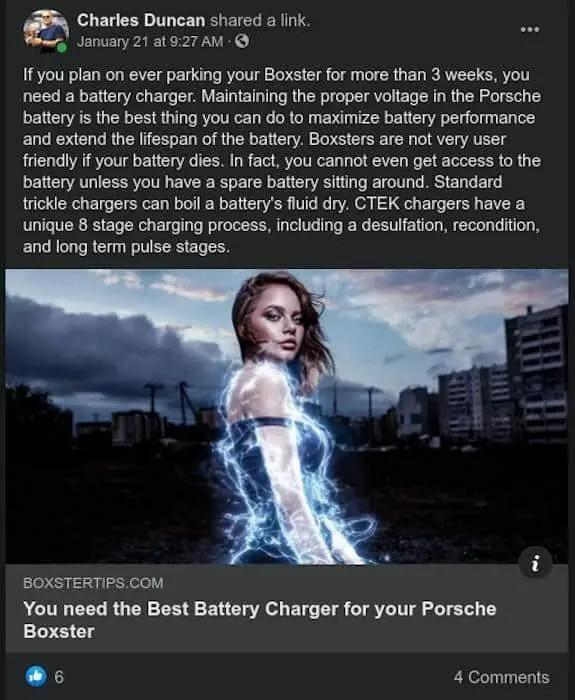 The most common forum thread topic on any Boxster forum is dead batteries. You need to take steps to prevent this issue from leaving you stranded. For this reason, the battery charger is at the top of our Porsche Boxster Accessories list.
The Best Battery Charger for Your Boxster article has an excellent overview of Porsche Boxster battery chargers. If you plan on ever parking your Boxster for over 3 weeks, you will need the Best Battery Charger for your Porsche Boxster.
Preview
OEM Option
Best Value
Upgrade Option
Title
Porsche Battery Maintainer 958-044-901-71
CTEK - 40-206 MXS 5.0 Fully Automatic 4.3 amp Battery Charger and Maintainer 12V
CTEK (56-353) MULTI US 7002 12-Volt Battery Charger,Black
Cigarette Adapter Included
8 Step Charging Curve
Porsche CTEK Charger uses a 7 step Charging Program (no RECOND Stage)
OEM Option
Preview
Title
Porsche Battery Maintainer 958-044-901-71
Cigarette Adapter Included
8 Step Charging Curve
Porsche CTEK Charger uses a 7 step Charging Program (no RECOND Stage)
Best Value
Preview
Title
CTEK - 40-206 MXS 5.0 Fully Automatic 4.3 amp Battery Charger and Maintainer 12V
Cigarette Adapter Included
Upgrade Option
Preview
Title
CTEK (56-353) MULTI US 7002 12-Volt Battery Charger,Black
Cigarette Adapter Included
Sale
CTEK (56-915) Black Bumper
Made of high-quality silicone rubber
Designed to protect both the charger and the paint
Also available in Pink sold separately
NOTE: Accordingly, if you get the CTEK charger and wish to use your 12V auxiliary power adaptor (cigarette lighter) for charging, accordingly make sure to add the CTEK (56-870) Comfort Indicator Cig Plug adaptor, CTEK (56-304) Comfort Connect Extension Cable, 8.2 Feet and CTEK (56-915) Black Bumper.
Boxstertips has dedicated articles on this most important accessory.
2. Floor Mats
Floor mats are essential for the care of your Porsche Boxster. They protect your car interior from wear and stains. As a result, they make the Porsche Boxster Accessories list.
You can do no better than the Weathertech mats. These mats protect from liquids, mud, dirt, debris, sand, etc. When these mats are in, I never worry about passengers getting in or out of the car.
You cannot beat these mats on track days as they will stand up to anything you can through at them.
The custom fit of these mats is legendary. They will preserve the value of your Boxster.
Some people may not need the protection of an all-weather floor mat and as a result, at Boxstertips we recommend the OEM mats. These mats offer luxury, comfort, and protection to your car interior. You can source these mats from your local dealer and remember to make use of your PCA discount (5% to 20% off).
The Ultimate floor mats are still Llyod Mats. They are fully licensed Porsche Brand mats. Llyod mats stand up to the quality of a Porsche product.

Bestseller No. 1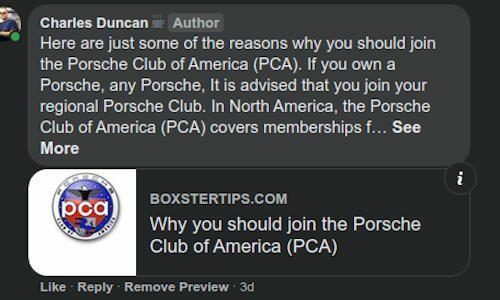 3. AGM Car Battery
The Boxster 986/987 Standard Lead Acid Moll batteries should be replaced at the first sign of losing their charge. You need to upgrade your car battery to a VLRA AGM Battery asap. AGM stands for Absorbent Glass Mat. It is the newer technology over the OEM lead-acid batteries used in the 986 and 987 models.
AGM batteries differ from standard lead-acid batteries in that they contained the electrolyte in glass mats. Originally designed in the US for aircraft, AGM batteries are just better.
They can be mounted in any position
superior handling of vibration
designed to prevent the emission of hydrogen gas on overcharge
electrolyte levels are a non-issue
shorter recharge time (up to 5x faster)
AGM batteries cannot tolerate overcharging., and overcharging will shorten the battery life,
safer for the environment
excellent cold temperature performance
On all Boxster forums, users have reported excellent performance using standard AGM batteries (Optima, ACDelco, Delphi, etc.) that fit your model of Boxster. The properly sized model of battery for your Boxster is critical, please double-check before ordering. A review on Amazon should provide many AGM Battery options.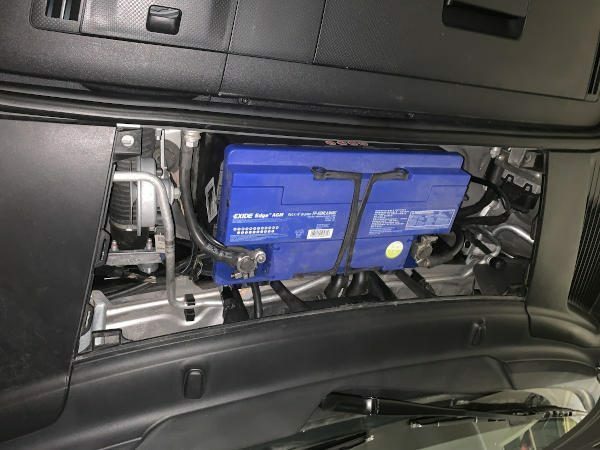 Bestseller No. 1
Weize Platinum AGM Battery BCI Group 94R - 12v 80ah H7 Size 94R Automotive Battery, 140RC, 850CCA, 36 Months Warranty
140RC rating: Provides reliable performance and long service life, Up to 2 times the cycle life of conventional batteries.
80AH capacity: Delivers consistent power over time, Cycles more, and recharges faster than conventional batteries.
850 CCA: Ensures quick and reliable starting power.Delivers superior starting power in cold weather, and resists internal corrosion from heat.
Advanced technology: Specially designed for vehicles with start-stop technology and accessories that demand greater power, Whether you drive a car, truck, or SUV, this 140RC 80AH 850CCA automotive start-stop battery is the perfect choice for reliability.
Low maintenance and easy to install: Leak-proof and certified non-spillable design for safer maintenance-free power, Constructed for greater vibration resistance and enhanced durability.
3-year warranty:We aim for quality followed up with quality customer service, Amazon doesn't deal with the return of battery-related products,so please contact the seller directly. Size, cold cranking amps,terminal location,and battery type are key pieces to getting the right unit. please measure your old battery and compare the dimensions with this battery,if the measurements are the same,positive and negative poles are consistent,CCA is no big difference,and it will fit your vehicle.
Bestseller No. 2
Interstate Batteries Automotive Battery 12V 80Ah (Group Size H7, 94R) 850CCA SLI AGM Automobile Replacement Battery for Cars, SUVs, Sedans, Trucks (MTX-94R/H7)
AUTOMOTIVE PURE LEAD AGM: Download the Compatibility Guide below under Product Guides & Documents to learn more and verify fit. Interstate's MTX AGM design packs more lead into the battery, giving you the longest life possible for your start-stop vehicle
PREMIUM BATTERY PERFORMANCE: Interstate's MTX absorbed glass-mat (AGM) battery will meet or exceed your car's starting requirements while delivering premium battery performance to power all your accessories and plug-ins, making it Outrageously Dependable
2X-3X MORE BATTERY LIFE: Expected service life is 2X more than a conventional lead alloy AGM battery, and 3X longer life than conventional flooded battery. This design packs more lead into the car battery, giving you the longest life possible while the battery itself is spill-proof and vibration resistant
MAINTENANCE-FREE AND SPILL-PROOF: Rechargeable, maintenance-free, and spill-proof because of the AGM and VRLA (valve regulated) technology that eliminates spills and overpressure. The MTX is an absorbed glass-mat battery using a revolutionary design that suspends electrolyte in fiberglass mats instead of letting free-flowing liquid in a battery cell
MOST TRUSTWORTHY POWER SOURCE: For 70+ years, Interstate Batteries purpose has been to deliver the most trustworthy source of power to the world - every day, and have become the preferred battery among automotive stores and professionals
Sale
Bestseller No. 3
ACDelco Gold 94RAGMHR 36 Month Warranty High Reserve AGM BCI Group 94R Battery
Maintenance-free Absorbed Glass Mat (AGM) technology - no water required, no spills, no leaks, and no maintenance
Leak-proof pressurized valve system is engineered for safety and long life. Helps prevent dry-out and acid damage to the terminals
High density plate oxide provides for maximum power-per-pound and dependable æhigh cyclingÆ service
Some ACDelco Gold parts may have formerly appeared as ACDelco Professional
Some ACDelco Gold parts may have formerly appeared as ACDelco Specialty
Premium aftermarket replacement part
Quality, performance, and dependability of ACDelco Gold (Professional) parts are validated through an extensive testing regimen
Manufactured to meet specifications for fit, form, and function for General Motors vehicles as well as most makes and models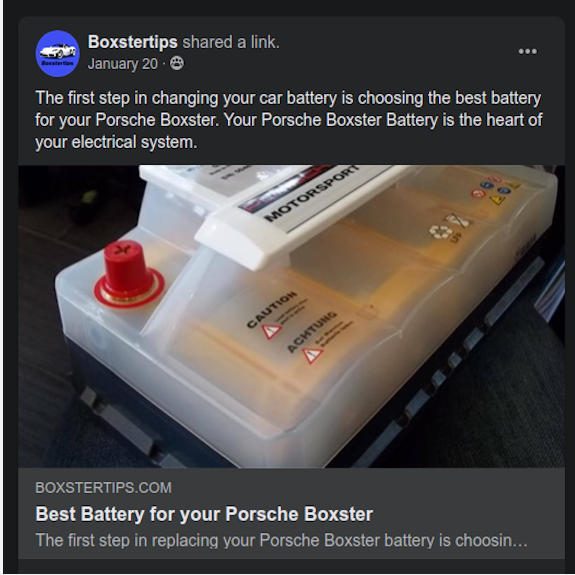 4. Car Cover
A good car cover is instrumental in the long-term management of your Porsche Boxster and makes our Porsche Boxster Accessories list. Your #1 enemy of your Convertible Top is the collection of dust within the canvas of the convertible top. A dirty canvas convertible will shorten the life of your convertible top. As part of your regular maintenance, you need to Clean and Condition your convertible top.
A good car cover, when used properly, will prolong the life of your Porsche convertible top and paint finish. You can source both outdoor and indoor car covers from your local dealer, also remember to make use of your PCA discount (5% to 20% off).
Otherwise, Amazon has an excellent assortment of car covers. Please take the time to review and work with the vendor to ensure you are getting the correct size of car cover for your year and model of Boxster.
iCarCover Premium Car Cover for 1997-2004 Porsche Boxster Waterproof All Weather Rain Snow UV Sun Hail Protector for Automobiles, Automotive Accessories Full Exterior Indoor Outdoor Car Cover
Custom Fit: This Porsche car cover is designed to fit your 1997-2004 Porsche Boxster perfectly. Our Porsche Boxster car cover is machine cut to fit every variation of Porsche Boxster. Elastic hems at the front and back enhance the grip of our all weather car cover and ensure a perfect custom fit.
100% Weatherproof & Waterproof: Designed in the USA, iCarCover offers heavy duty car covers for automobiles and ford mustang accessories that are superior in quality. Our outdoor car covers offer a soft cotton inner lining to prevent scratches and protection from all-weather options including waterproof, snow, rain, hail, also 100% sun and UV protective.
Secure your Vehicle with Confidence: The perfect automotive exterior accessory. Our windproof and anti-theft car covers features three heavy duty straps to keep the cover in place during heavy winds.
Advanced Features: Waterproof lined seams prevent leakage and air ventilation prevents humidity and water. iCarCover all weather car covers can handle it all. Our thick high grade GSM materials are machine cut, multilayered and bond-pressed for optimal protection.
100% Warranty & Automotive Exterior Accessories: We offer a 100% warranty on your car cover, including car accessories like antenna patches, grommets, wind straps and a storage bag for compact storage. Experience the ultimate combination of style, protection and peace of mind with iCarCover's heavy duty car cover.
4.1 Boxstertips has a dedicated article on the care of your Canvas Convertible Top: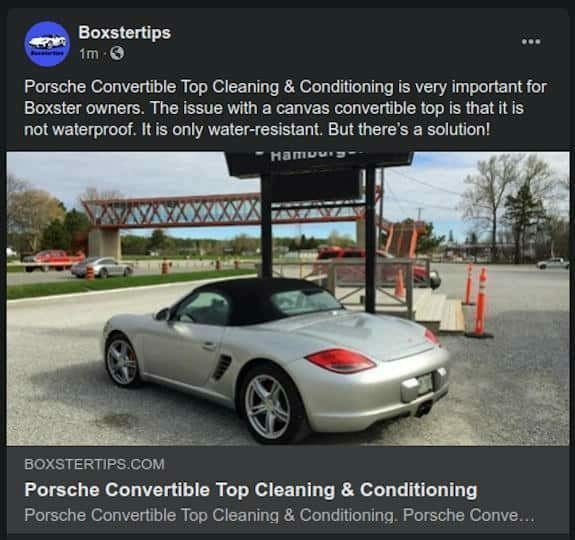 5. Wiper Blades
Not a lot of thought is given to your wiper blades, that is until you need them. 
he Absolutely best type of wiper blades for your Porsche Boxster are Silicone Wiper blades
Owning over 20 cars, I have used just about every wiper blade on the market (Michelin, Bosch, AC Delco, Rain X, etc.) I literally used to use wipers until they fell off the car. Although these are all good wiper blades.
I used to encounter wiper blade issues like:
Streaking or smudging on the windshield.
Squeaking and blade noise when in use.
Shudder at speed
Premature wear and failure
Most Boxsters use 22″ blades for the Passenger and Driver (986/987/987.2), Please confirm your size of wiper blades using the Amazon "Check Fit" option for all automotive parts and accessories to ensure the correct size is purchased for your Boxster. Amazon continues to sell out of the PIAA Super Silicone 22″ 95055 Wiper Blades, the RainX Silicone Endura Blades make an excellent alternate choice.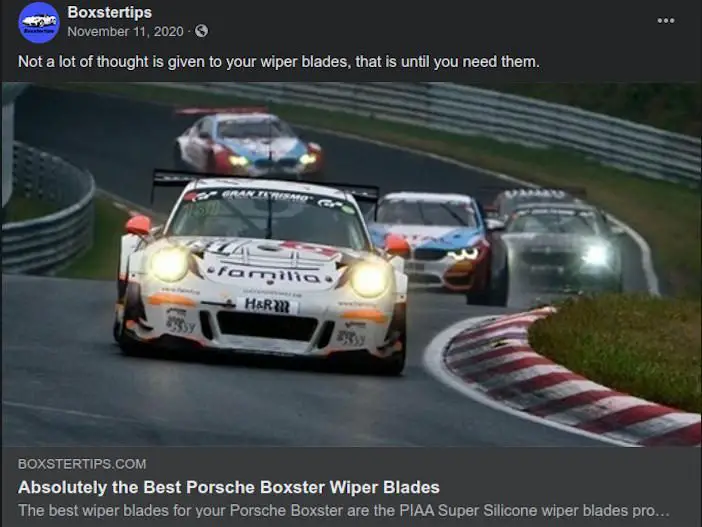 6. BlueTooth Adapter
This is a mandatory upgrade for 986 and 987 Boxsters, and any post 987 Boxsters that were purchased without the Bluetooth option. The best Bluetooth car adapters upgrade your vehicle's wire-free capabilities for relatively cheap.
At the very least, your Bluetooth adapter should be able to play music and make hands-free calls through your car's stereo system from any smartphone.
Here is a list of the Top 5 Best Selling Bluetooth Adapters currently selling on Amazon in your country. Make sure to get V5.0 Bluetooth at a minimum. The first Bluetooth Adapter option on this list is a long-time favorite and has a consistent following of positive reviews.
7. Upgrade to Clear Side Marker Lights
Give your Boxster the true European look when you Upgrade your Boxster to Clear Side Marker Lights. Remove those old ugly ORANGE side markers!!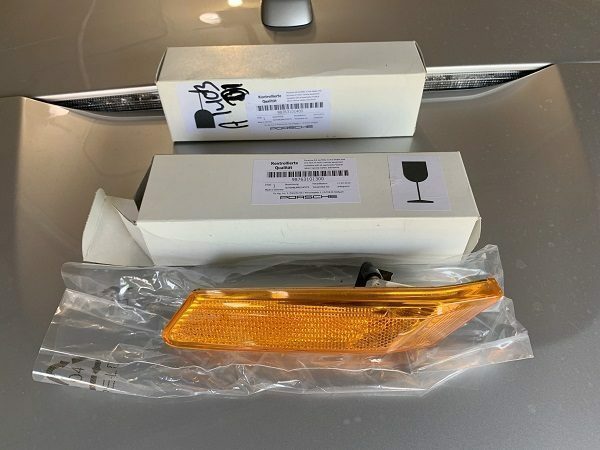 You can source Clear Side Marker lights from your local Porsche Dealer. You can source both clear and orange side marker lights from your local dealer and remember to make use of your PCA discount (5% to 20% off).
Amazon offers a whole new assortment of LED clear side marker lights, although we at Boxstertips have not tested them. If you go this route, please take the time to review and work with the Amazon or Amazon Vendor to ensure you are getting the correct size marker light for your year and model of Boxster.
Amazon now sells both clear and smoked LED side marker lights for all models of Boxster:
Boxstertips has a dedicated article on this important accessory: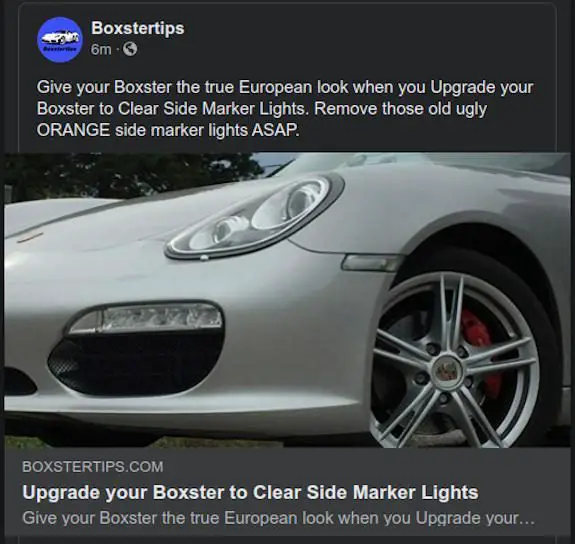 8. Boxster Large Red "S" Rear Trunk Badge

Porsche Boxster Accessories From the Forums
I tend to keep the mods on mine pretty low key and tasteful.
I hate anything that is "over-badged".

1) The Boxster badge on the trunk was replaced by PORSCHE in silver letters.
2) LED low and high beam headlight bulbs.
3) LED bulbs in the front and rear trunk.
4) Silver powder-coated the lug bolts.
5) Countersunk the oil drain plugs on my lathe and added magnets.
6) Got rid of the warnings on the sun visors.
7) Added satin black aluminum mesh to the center radiator vent.
8) Repainted outside front bumper grills satin black.
9) Added valve stem caps with the PSI stamped on them. (I do that on all my rides)
10) short shifter

Many more mods to come. I've only had mine for a few months and I can't seem to leave anything alone. Most of my time so far has been spent on detailing and maintenance.

Cheers. 2HE

Twin headlight Ernie@986forum.com
From the Internet
Other Articles of Interest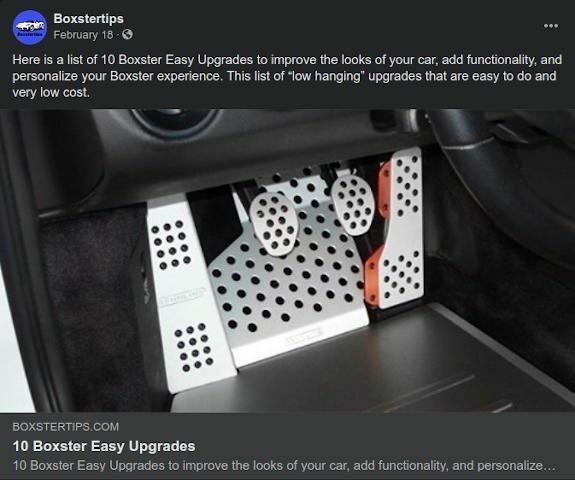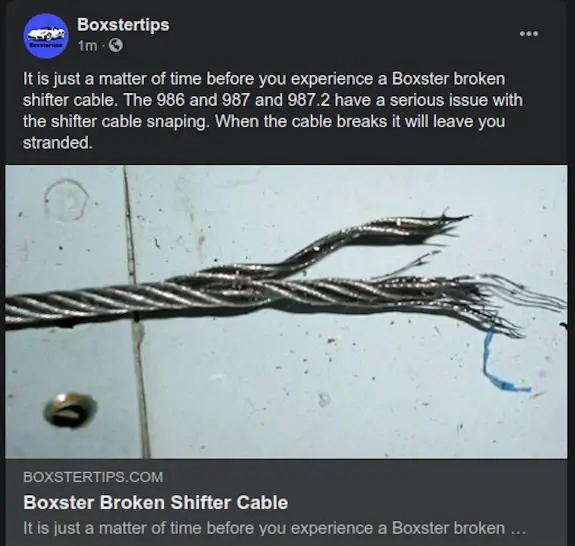 Accessory FAQ
Why Mod or add accessories to your Porsche Boxster?
Adding accessories to your Porsche Boxster will provide your car with a customized, tailored look that sets it aside from all other Boxsters on the Market.
Last update on 2023-12-09 / Affiliate links / Images from Amazon Product Advertising API