Porsche Boxster Accessories are essential to enhance your Porsche Boxster. As one of the best sports cars on the road, here at Boxstertips, we have collected a list of must-have accessories for your Boxster.
1. Battery Charger
Storage of a Porsche Boxster is part of your maintenance process. Boxsters are not very good in the snow and should never have exposure to road salt, therefore storing your Porsche Boxster is a recommendation. A good battery charger is critical to the life and maintenance of your Porsche Boxster. (Boxstertips has an excellent guide to storing your Porsche Boxster).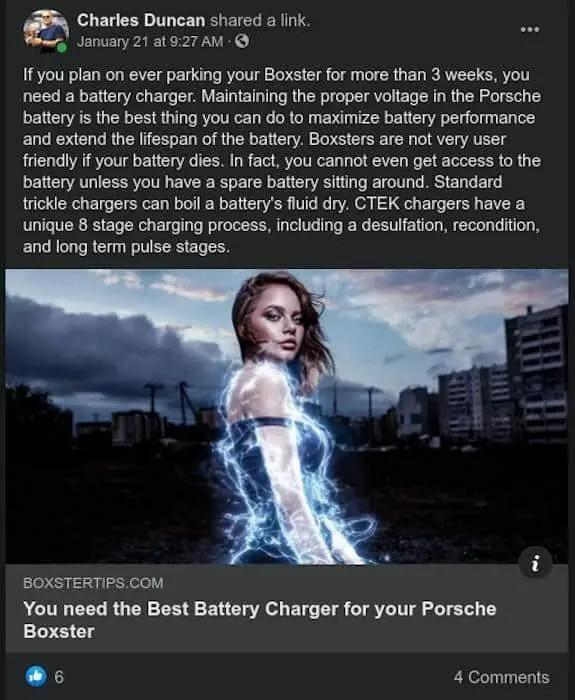 The most common forum thread topic on any Boxster forum is dead batteries. You need to take steps to prevent this issue from leaving you stranded. For this reason, the battery charger is at the top of our Porsche Boxster Accessories list.
The Best Battery Charger for Your Boxster article has an excellent overview of Porsche Boxster battery chargers. If you plan on ever parking your Boxster for over 3 weeks, you will need the Best Battery Charger for your Porsche Boxster.
Preview
OEM Option
Best Value
Upgrade Option
Title
Porsche Battery Maintainer 958-044-901-71
CTEK - 40-206 MXS 5.0 Fully Automatic 4.3 amp Battery Charger and Maintainer 12V
CTEK (56-353) MULTI US 7002 12-Volt Battery Charger,Black
Cigarette Adapter Included
8 Step Charging Curve
Porsche CTEK Charger uses a 7 step Charging Program (no RECOND Stage)
OEM Option
Preview
Title
Porsche Battery Maintainer 958-044-901-71
Cigarette Adapter Included
8 Step Charging Curve
Porsche CTEK Charger uses a 7 step Charging Program (no RECOND Stage)
Best Value
Preview
Title
CTEK - 40-206 MXS 5.0 Fully Automatic 4.3 amp Battery Charger and Maintainer 12V
Cigarette Adapter Included
Upgrade Option
Preview
Title
CTEK (56-353) MULTI US 7002 12-Volt Battery Charger,Black
Cigarette Adapter Included
Sale
CTEK (56-870) Comfort Indicator Cig Plug
Battery is charged through the vehicles 12-volt socket
The comfort indicator shows how much power is left in the battery
Made of high-quality materials for long-lasting dependability
CTEK (56-915) Black Bumper
Designed to protect both the charger and the paint
Made of high-quality silicon rubber
Fits MUS 4. 3, Lithium, MXS 5. 0, CT5 Time To Go and Powersport battery chargers.
NOTE: Accordingly, if you get the CTEK charger and wish to use your 12V auxiliary power adaptor (cigarette lighter) for charging, accordingly make sure to add the CTEK (56-870) Comfort Indicator Cig Plug adaptor, CTEK (56-304) Comfort Connect Extension Cable, 8.2 Feet and CTEK (56-915) Black Bumper.
Boxstertips has dedicated articles on this most important accessory.
2. Floor Mats
Floor mats are essential for the care of your Porsche Boxster. They protect your car interior from wear and stains. As a result, they make the Porsche Boxster Accessories list.
You can do no better than the Weathertech mats. These mats protect from liquids, mud, dirt, debris, sand, etc. When these mats are in, I never worry about passengers getting in or out of the car.
You cannot beat these mats on track days as they will stand up to anything you can through at them.
The custom fit of these mats is legendary. They will preserve the value of your Boxster.
Some people may not need the protection of an all-weather floor mat and as a result, at Boxstertips we recommend the OEM mats. These mats offer luxury, comfort, and protection to your car interior. You can source these mats from your local dealer and remember to make use of your PCA discount (5% to 20% off).
The Ultimate floor mats are still Llyod Mats. They are fully licensed Porsche Brand mats. Llyod mats stand up to the quality of a Porsche product.

Sale
Bestseller No. 1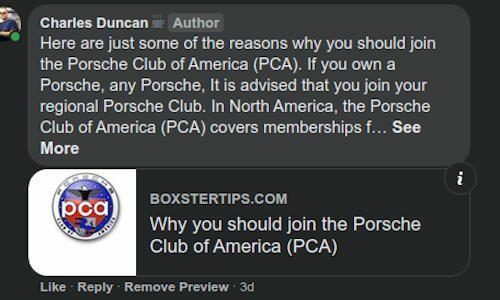 3. AGM Car Battery
The Boxster 986/987 Standard Lead Acid Moll batteries should be replaced at the first sign of losing their charge. You need to upgrade your car battery to a VLRA AGM Battery asap. AGM stands for Absorbent Glass Mat. It is the newer technology over the OEM lead-acid batteries used in the 986 and 987 models.
AGM batteries differ from standard lead-acid batteries in that they contained the electrolyte in glass mats. Originally designed in the US for aircraft, AGM batteries are just better.
They can be mounted in any position
superior handling of vibration
designed to prevent the emission of hydrogen gas on overcharge
electrolyte levels are a non-issue
shorter recharge time (up to 5x faster)
AGM batteries cannot tolerate overcharging., and overcharging will shorten the battery life,
safer for the environment
excellent cold temperature performance
On all Boxster forums, users have reported excellent performance using standard AGM batteries (Optima, ACDelco, Delphi, etc.) that fit your model of Boxster. The properly sized model of battery for your Boxster is critical, please double-check before ordering. A review on Amazon should provide many AGM Battery options.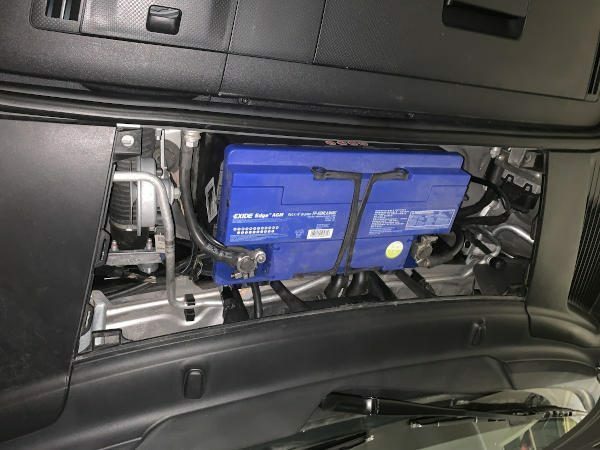 Sale
Bestseller No. 1
ACDelco Gold 94RAGM 36 Month Warranty AGM BCI Group 94R Battery
High density negative paste, improves performance and increases battery life
Enhanced life alloy or Silver Calcium stamped alloy increases cycle life and improves performance
Calcium Lead positive grid, maximizes conductivity and allows for low resistance
Robust Envelope Separator with puncture-resistant back, allows for increased acid circulation and prevents shorts. Improved acid circulation, helps the battery to remain cool, and extend battery life
Vent cap design that resists acid leakage
Precision manufactured ribbed case that is 100% pressure tested, helps avoid future leaks and adds strength and rigidity
100% Electrical short tested to minimize early failures
Bestseller No. 2
Bestseller No. 3
Powertex Batteries Lithium-Ion LiFePO4 BCI Group Size 94R / H7 Automotive Battery - 12.8V 1250CA 590CCA 66Ah 845Wh - AGM & SLA Drop-In Premium Replacement
MORE POWER - The rated voltage of our batteries is about 0.8V higher than a lead-acid battery, meaning the battery has more discharge power. As a result, it can improve the combustion efficiency of the fuel in the engine cylinder. So when using this battery you may feel the car start faster, has lower fuel consumption, lighter throttle, more responsive engine and more power!
LIGHTWEIGHT – Powertex's LiFePO4 BCI Group 94R / H7 battery weighs in at 16.5 lbs compared to the standard lead acid equivalent which weighs a whopping 51.6 lbs.
BATTERY MANAGEMENT SYSTEM - PowerTex LiFePO4 Lithium Iron Phosphate Batteries come standard with a built-in BMS (Battery Management System) that protects it from the most common causes of battery failure like overcharge, deep discharge, overheating and more.
GRADE A CELLS - Powertex LiFePO4 Lithium Iron Phosphate car batteries provide the highest level of quality and reliability. Don't be fooled by the competition, our cells are UL certified. Our batteries UN38.3 & RoHs certified.
LONGEVITY – Powertex LiFePO4 automotive batteries provide more than 2,000 cycles at 80% DOD (depth of discharge). This is compared to a lead acid battery that only offers 200 ~ 500 cycles. As a result, our lithium iron phosphate batteries have a lifespan of about 5 to 10 years.
WARRANTY - We stand by and believe in our products and think you should too! That's why we test all batteries before shipping and offer a 3 Year warranty.
CHARGING - A LiFePO4 charger is highly recommended since SLA chargers might not reach the optimal 14.4V-15V LiFePO4 charging voltage. This might result in the LFP battery never reaching it's full charge and thus lowering the performance.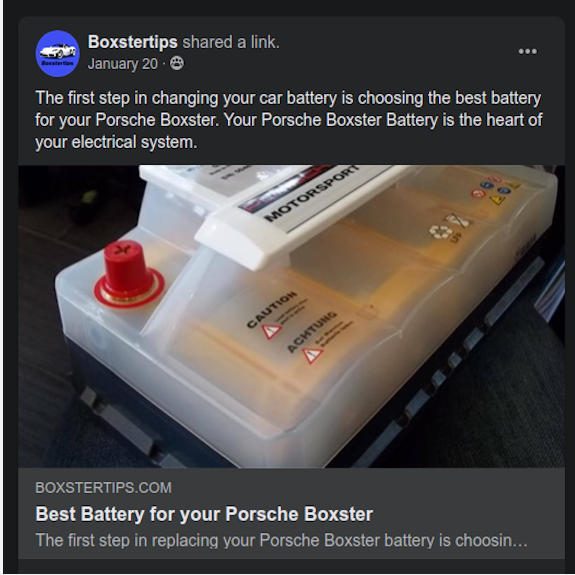 4. Car Cover
A good car cover is instrumental in the long-term management of your Porsche Boxster and makes our Porsche Boxster Accessories list. Your #1 enemy of your Convertible Top is the collection of dust within the canvas of the convertible top. A dirty canvas convertible will shorten the life of your convertible top. As part of your regular maintenance, you need to Clean and Condition your convertible top.
A good car cover, when used properly, will prolong the life of your Porsche convertible top and paint finish. You can source both outdoor and indoor car covers from your local dealer, also remember to make use of your PCA discount (5% to 20% off).
Otherwise, Amazon has an excellent assortment of car covers. Please take the time to review and work with the vendor to ensure you are getting the correct size of car cover for your year and model of Boxster.
iCarCover Fits: [Porsche Boxster] 1997-2004 Premium Full Car Cover Waterproof All Weather Resistant Custom Outdoor Indoor Sun Snow Storm Protection Form-Fit Padded Cover with Straps
100% Waterproof & Weatherproof: iCarCover Automobiles Covers Provide Protection During Winter and are Hail Proof. It's Made from a Premium Material & Protects the Door, Mirror and Bumper from Frost
100% UV Heat Protection & Scratchproof: UV Protector and Heat Reflective Layer Prevents Interior & Exterior Damage. Unlike Plastic Tarp, the Use of Non-Abrasive Light Cotton Makes your Auto Dust Proof
100% Windproof & Anti-theft: Make your Automobile Model Protects Against Wind & Theft with a Reveal Heavy Duty Strap to Keep the Cover in Place. The Elastic Hems are Also Used on the Front and Rear End
100% Fitted: Made with Thick Microfiber Layer & Fits Perfectly on Cars like Transport Universal Vehicles, Station Wagon, Coupe, Sedan, Automatic, Convertible, Sport Cars, Sports Cabriolet & Hatchback
100% Warranty & Extra accessories: Comes with Antenna Patch, Grommets and Top Quality Plastic Zipper Bag Included for Compact Storage. The Size of Car Cover Ranges from Small, Medium to Large, XL, XXL
4.1 Boxstertips has a dedicated article on the care of your Canvas Convertible Top: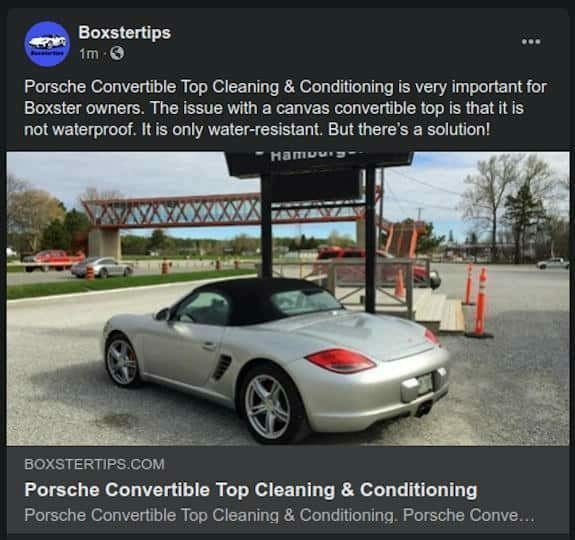 5. Wiper Blades
Not a lot of thought is given to your wiper blades, that is until you need them. 
he Absolutely best type of wiper blades for your Porsche Boxster are Silicone Wiper blades
Owning over 20 cars, I have used just about every wiper blade on the market (Michelin, Bosch, AC Delco, Rain X, etc.) I literally used to use wipers until they fell off the car. Although these are all good wiper blades.
I used to encounter wiper blade issues like:
Streaking or smudging on the windshield.
Squeaking and blade noise when in use.
Shudder at speed
Premature wear and failure
Most Boxsters use 22″ blades for the Passenger and Driver (986/987/987.2), Please confirm your size of wiper blades using the Amazon "Check Fit" option for all automotive parts and accessories to ensure the correct size is purchased for your Boxster. Amazon continues to sell out of the PIAA Super Silicone 22″ 95055 Wiper Blades, the RainX Silicone Endura Blades make an excellent alternate choice.
Bestseller No. 1
MOTIUM 22"+22" Super Silicone Windshield Wiper...
Sale
Bestseller No. 2
Rain-X 830122 Silicone Endura 22-Inch Wiper Blade
Sale
Bestseller No. 3
Trico Silicone Ceramic 22 inch Automotive...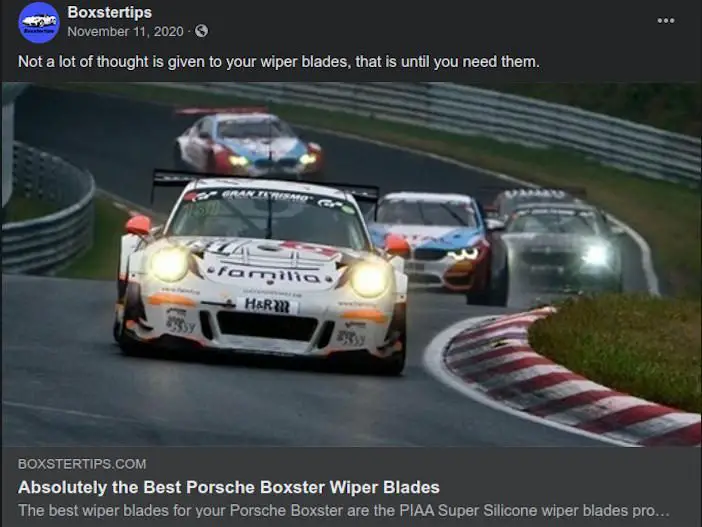 6. BlueTooth Adapter
This is a mandatory upgrade for 986 and 987 Boxsters, and any post 987 Boxsters that were purchased without the Bluetooth option. The best Bluetooth car adapters upgrade your vehicle's wire-free capabilities for relatively cheap.
At the very least, your Bluetooth adapter should be able to play music and make hands-free calls through your car's stereo system from any smartphone.
Here is a list of the Top 5 Best Selling Bluetooth Adapters currently selling on Amazon in your country. Make sure to get V5.0 Bluetooth at a minimum. The first Bluetooth Adapter option on this list is a long-time favorite and has a consistent following of positive reviews.
Sale
Bestseller No. 1
Bestseller No. 2
Bluetooth FM Transmitter for Car - Tensun Bluetooth Car Adapter PD20W+QC3.0 Cigarette Lighter Bluetooth 5.0 Radio Receiver Music Player Car Charger Supports Hands-Free Call Siri Google Assistant
PD 20W + QC 3.0 Fast Charging - 2 USB Quick charging ports is ideal for charging your phones/tablets. This Bluetooth FM transmitter for car equipped with 1 USB C fast-charge port, can quickly charge iPhone 11/12 from 0% to 80% in 40 minutes. 1 USB 3.0 port is 4X faster than a standard charger. And 1 additional USB charge port (5V/1A) that can also be used as a U disk port to play music
3 Music Play Methods & Bluetooth Car Adapter - This Bluetooth transmitter allows you play music through Bluetooth & TF card &U disk. With Bluetooth 5.0 tech, the Bluetooth FM transmitter for car can provide low latency, more stable connection for playing music and making hands-free calls. Micro SD card(TF card) port supports lossless sound quality playback
Clear Hands-Free Calls & Voice Assistant - The Bluetooth car adapter built-in high-performance noise suppression microphone for a clearer and smoother call. Compatible with iPad, iPhone, Samsung, Google, LG, HTC, etc. Supports Siri, Google voice navigation. This Bluetooth FM transmitter for car is easy to operate, just One-Key Auto-Tune to answer/hang up the call
Voltage Warning Function - The Bluetooth FM transmitter for car suits for all 12V-24V cars, trucks, SUVs. The LCD screen can show the current FM radio station and monitor the battery voltage in real-time. The Bluetooth car adapter is convenient for you to keep track of the health status of your car battery, and effectively prevent various problems and protect your driving safety
7 Color LED Backlit & Warm Service - With the Bluetooth FM transmitter for car, you can play music through Bluetooth, U disk, and TF card (≤32GB, MP3/FLAC/WMA/APE music format). The colorful LED backlight sets the music atmosphere while relieving driving fatigue, making your journey more exciting. We provide 12 months warranty and lifetime tech support, please contact us if you have any questions with this Bluetooth car adapter
Bestseller No. 3
IMDEN Bluetooth 5.0 FM Transmitter for Car, 3.0 Wireless Bluetooth FM Radio Adapter Music Player FM Transmitter/Car Kit with Hands-Free Calling and 2 USB Ports Charger Support USB Drive
2 ports usb car charger &3.0 charger : support charging two devices simultaneously, one port is quick charge 3.0 port. this fast charge port is also compatible with: 2.0, hua wei fcp, type-c and samsung. the charger efficiency is more than 80%.
Answer calls hands-free :high-performance microphone with noise suppression cvc technology, grants you crystal clear call. answering/redialing/dismissing or ending call just simply click a button.
Immerse in hi-fi music: insert a usb flash driver which contains mp3 files into the right±usb port and enjoy it. if that's not enough, it can also support your playlist with no distortions of the original signal from your mp3, iphone, android smartphones and more bluetooth enabled devices.
Wide compatibility :bluetooth car fm transmitter can be paired as a hands-free kit with all bluetooth enabled devices, such as iphone, ipad, ipod, tablet, samsung, htc, sony and other andriod smartphones.
Multi-safety protection :comes with built-in over-current protection, over-voltage protection, intelligent temperature control, short circuit protection.
Sale
Bestseller No. 4
Handsfree Call Car Charger,Wireless Bluetooth FM Transmitter Radio Receiver,Mp3 Audio Music Stereo Adapter,Dual USB Port Charger Compatible for All Smartphones,Samsung Galaxy,LG,HTC,etc.
Dual USB car charger: 2 USB charging port to charge most USB Devices. Input 12V/24V, 1a port with USB reading and charge function; smart 3. 1 A charge port which can intelligently identify Android or iPhone devices and charging.
More compatibility: wireless Bluetooth FM transmitter adapter for car radio,transfer calling/MP3 music/Cellphone voices to car speaker.Compatible with iPad,iPhone,Samsung,Google,LG,HTC and Bluetooth Device.
Hands free function: built-in microphone, switch to hands-free mode automatically from music playing status when receiving calls. Answer/reject/hand up/recall all in One key.
Car battery voltage function: Show 3 seconds voltage when plug into the car outlet port. Always keep battery state of health. Then it turn to automatic play mode.
Music playing:support Bluetooth /USB disk/TF card/ MP3/wma player. With anti-interference performance and CVC technology.Listening to music while charging. Automatically connect memorized paired when power on.
Sale
Bestseller No. 5
Nulaxy Wireless in-Car Bluetooth FM Transmitter Radio Adapter Car Kit W 1.44 Inch Display Supports TF/SD Card and USB Car Charger for All Smartphones Audio Players-KM18
1.44 Inch LCD Display: Nulaxy KM18 Bluetooth FM transmitter has a 1.44 inch screen for better displaying information like phone calls, FM channels, music, car battery voltage, etc. The ideal screen size to assist you in driving safe without disturbance.
Flexible Gooseneck&Bluetooth V5.0: The rotatable Gooseneck of the wireless radio adapter can provide you with an adjustable viewing angle and optimal viewing comfort of LCD display screen. With the Bluetooth V5.0 technology, the car bluetooth adapter can provide a more stable and faster connecting without intermittent disconnection.
Noise Cancellation&Hi-Fi Sound Quality: Nulaxy noise-cancellation technology dampens the road noise and gives you clear, crisp sound for hands free calls. High Quality Music Streaming ensures crystal clear sound for listening music and hands-free calls.
Hands-free Calls: All in one button for hands-free calls: answer/reject/hand up/recall make you seamlessly switch between incoming calls and music. Enjoy complete voice-control and safer driving with this Bluetooth transmitter.
Wide Compatibility: The fm transmitter bluetooth for car is compatible with most devices on the market, such as iPad, iPhone, iPod, HTC, Galaxy, Sony, MP3 player, tablet and Android Smartphones. You can play your favorite songs on your car stereo via Bluetooth, TF Card and Aux Cable. And it fits 12V-24V cars and trucks.
7. Upgrade to Clear Side Marker Lights
Give your Boxster the true European look when you Upgrade your Boxster to Clear Side Marker Lights. Remove those old ugly ORANGE side markers!!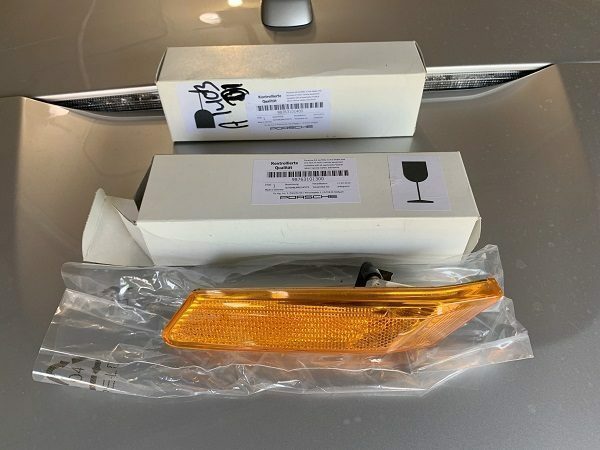 You can source Clear Side Marker lights from your local Porsche Dealer. You can source both clear and orange side marker lights from your local dealer and remember to make use of your PCA discount (5% to 20% off).
Amazon offers a whole new assortment of LED clear side marker lights, although we at Boxstertips have not tested them. If you go this route, please take the time to review and work with the Amazon or Amazon Vendor to ensure you are getting the correct size marker light for your year and model of Boxster.
Amazon now sells both clear and smoked LED side marker lights for all models of Boxster:
Boxstertips has a dedicated article on this important accessory: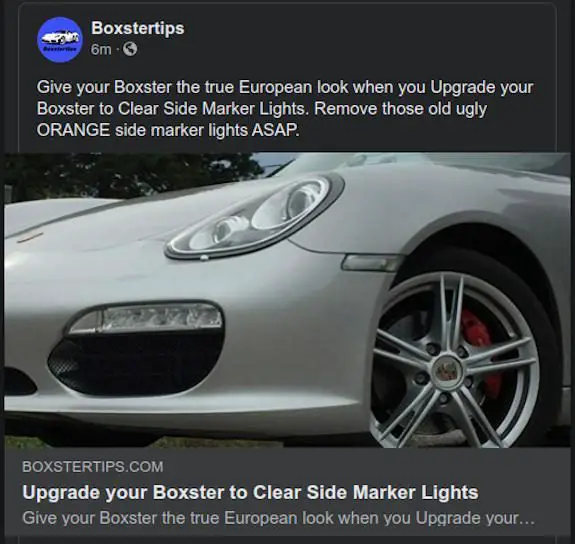 8. Boxster Large Red "S" Rear Trunk Badge

Porsche Boxster Accessories From the Forums
I tend to keep the mods on mine pretty low key and tasteful.
I hate anything that is "over-badged".

1) The Boxster badge on the trunk was replaced by PORSCHE in silver letters.
2) LED low and high beam headlight bulbs.
3) LED bulbs in the front and rear trunk.
4) Silver powder-coated the lug bolts.
5) Countersunk the oil drain plugs on my lathe and added magnets.
6) Got rid of the warnings on the sun visors.
7) Added satin black aluminum mesh to the center radiator vent.
8) Repainted outside front bumper grills satin black.
9) Added valve stem caps with the PSI stamped on them. (I do that on all my rides)
10) short shifter

Many more mods to come. I've only had mine for a few months and I can't seem to leave anything alone. Most of my time so far has been spent on detailing and maintenance.

Cheers. 2HE

Twin headlight Ernie@986forum.com
From the Internet
Other Articles of Interest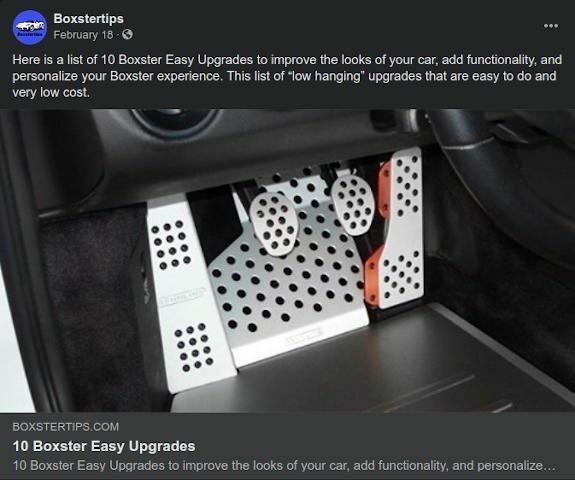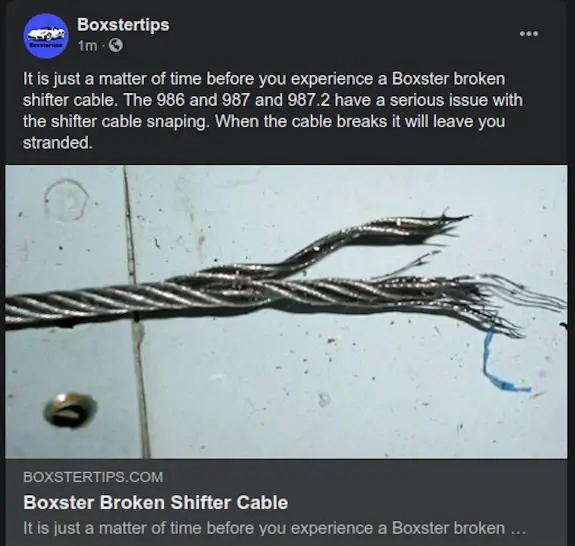 Accessory FAQ
Why Mod or add accessories to your Porsche Boxster?
Adding accessories to your Porsche Boxster will provide your car with a customized, tailored look that sets it aside from all other Boxsters on the Market.
Last update on 2023-06-02 / Affiliate links / Images from Amazon Product Advertising API