A very common issue for Porsche Boxster 987/987.2 convertible tops is that the Porsche Boxster convertible top sides not tucked in to their side channels.
This is a recurring issue for drivers who make use of their convertibles. The cloth stretch band loses its tightness over the use and age of the car.
Please note that you can easily guide the edge (by hand) of the convertible top into the channel while you are waiting to perform this repair.
You can manually stop the process of putting the top up just past service mode and reach out and guide the top over both bows into the channel. Or you and the significant other can reach back while the top is going up and guide the canvas inside the channel. Or I've heard you can push the top of the back window up and out which tucks the sides in enough to go inside of the bows of the channel. This doesn't work well if you have a wind deflector installed.
Youtube Video Repair of Top Sides Not Tucked In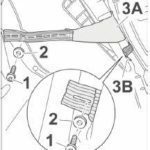 Please note that this appears to be only a short term fix. I have now done this repair 3 times over the 7 years that I have owned my 2009 987.2 Porsche Boxster. Over time, the replacement stretch band wears out over time.
I love the convertible feature and use it all the time. If this is similar to you, this is a skill set repair that you will need to learn.
From the Internet:
987 Boxster convertible top sides not tucked in (from Planet-9)
Top 5 Recommended Boxster Web Forums (Excellent Resource for repairs and advice)