Because you are a Boxster Enthusiast, you will be aware of many of these Best Porsche Boxster & Cayman Books. In addition, these books make excellent reading or gifts for your Boxster fan(s). Similarly, some make excellent coffee table books and they truly commemorate the phenomenal design of the Porsche Boxster and its contribution to the automotive industry.
1. Porsche 70 Years: There Is No Substitute
This is the bible for the last 70 years of Porsche. This is a book not just based on Boxsters, but all of Porsche and it's history.
Porsche 70 Years is packed with a mix of gorgeous vintage photographs, original factory renderings, and spectacular studio photography from Michael Furman. As for Leffingwell's part, he again knocks it out of the park with a mixture of eloquent fact recitation and turn of phrase that doesn't beat you over the head with elegance.

FlatSixes.com
Sale
2. Porsche Boxster, Boxster S Service Manual: 1997-2004
The service manual for the Boxster 986 is full of critical information on the support and repair of the Boxster 986. As a result, it makes an excellent gift for anyone who owns or knows someone who owns one of these early models Boxsters. It is a shame that this book does not have further volumes covering later model Boxsters.
Above all, the Bentley repair manual provides is the highest level of clarity and comprehensiveness for service and repair procedures for the Porsche Boxster. If you're looking for a better understanding of your Boxster, look no further than Bentley.
Sale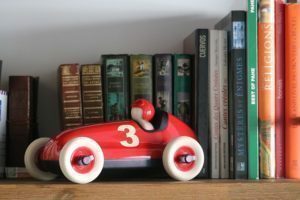 3. Porsche Boxster: The Practically Free Sportscar: The Beginner's Guide to Owning the Ultimate Roadster
The Porsche Boxster is growing in popularity every year. It is a favorite sports car and the original models are very cost-effective and allow people to access to a super-car at a reasonable price.
In the second book in his "Practically Free Porsche" book series, UK-based author and enthusiast Robert McGowan espouses his experiences with the Boxster in "Porsche Boxster: The Practically Free Sportscar: The Beginner's Guide to Owning the Ultimate Roadster."
Anyone considering the purchase of a low-priced Porsche Boxster will relish this book for its content and information. The Porsche Boxster is the most economically priced supercar and this book details this information and is one of the Best Porsche Boxster & Cayman Books. As a result, this book is a primary tool for educating yourself on the Porsche Boxster and achieving super-car status.
If you doubt the super-car classification of the Porsche Boxster/Cayman, you have to watch Top Gear - The Perfect Road Trip [Blu-ray] ; It squares up a Cayman S 3.4L against a Pagani Huayra 6.3L V12 at Monza. You will never guess who wins?!?
We will give you a hint, the driver. ?
3.1 Porsche Cayman Super-Car Video
4. Porsche Boxster: The 986 Series 1996-2004
The definitive history of the entire Porsche 986-series Boxster, including an overview of all the models sold in each of the world's major markets. Packed full of information, with contemporary illustrations sourced from the factory, this book provides the perfect guide for enthusiasts, historians, and those seeking authenticity. 
5. 101 Projects for Your Porsche Boxster (Motorbooks Workshop)
This book is critical for anyone who owns a later model 986/987. Every primary "Do it Yourself" project that Porsche Boxster owners will encounter are covered. This book is filled with high color photos for all of the steps involved to complete each project. The book also rates each project for the difficulty and the tools required.
In addition, Boxstertips has a dedicated article on this book located here. This is a highly recommended purchase and one of the Best Porsche Boxster & Cayman Books
Sale
6. Porsche Boxster and Cayman: The Complete Story (Crowood Autoclassics)
11 Chapters covering from their roots in the concerted racing activities of the company in the 1950s and 1960s to the drawing board, launch and the systematic growth across successive model ranges from 1996 to 2016, Porsche Boxster and Cayman are following the design and development of this mid-engined sports car and coupe family.
Detailed profiles and assessments of all Boxster and Cayman derivatives, including 986, 987, 981, and 718, are given. The book covers all the specifications for the different Boxster models, including entry-level, S, GTS, and GT-4. Including the special Limited Editions, such as the 550 Spyder 40th Anniversary models.
The book covers some of the author's international driving experiences at the wheel of Boxster and Cayman including the Bilster Berg race circuit and Tour Auto. There is also an intriguing interview with successful racer Rebecca Jackson, who describes the techniques of Boxster racing and demonstrates the versatility of this best-handling of all Porsche sports cars.
7. Porsche Boxster Story: The Entire Development History
This book was written by Paul Frère who was a racing car driver and journalist from Belgium. He actually raced in 11 World Champion Formula One Grand Prix. He drove for Ferrari but is considered an absolute expert on Porsche Cars.
This is the follow-up book to his other very successful book entitled "The Porsche 911 Story".

Synopsis: In Porsche Boxster Story author Paul Frère traces the development history of the Boxster, from the original concept car, unveiled at the 1993 Detroit Motor Show, through the evolution of the first-generation 986-series cars, to the latest 987-series. He provides a technical description of the body structure, engine, transmission, and running gear as they evolved over the years, together with a summary of press reaction at each stage of development. Finally, he covers the Cayman S coupé, itself based on the Boxster and filling the gap between the Boxster and the 911 in terms of price and performance.
8. Bentley Porsche Boxster, Boxster S Service Manual: 1997-2004
The Porsche Boxster Service Manual: 1997-2004 covers the 1997 through 2004 model year Boxster and Boxster S. Bentley repair manuals provide the highest level of clarity and comprehensiveness for service and repair procedures. If you're looking for a better understanding of your Boxster, look no further than Bentley.
Sale
Amazon Best Sellers
Bestseller No. 1
Bestseller No. 2
Sale
Bestseller No. 3
Porsche Boxster
Used Book in Good Condition
Hardcover Book
Clauspeter Becker (Author)
English (Publication Language)
12/10/1996 (Publication Date) - Delius Klasing (Publisher)
Bestseller No. 4
Bestseller No. 5
iCarCover Premium Car Cover for 1997-2004 Porsche Boxster Waterproof All Weather Rain Snow UV Sun Hail Protector for Automobiles, Automotive Accessories Full Exterior Indoor Outdoor Car Cover
Custom Fit: This Porsche car cover is designed to fit your 1997-2004 Porsche Boxster perfectly. Our Porsche Boxster car cover is machine cut to fit every variation of Porsche Boxster. Elastic hems at the front and back enhance the grip of our all weather car cover and ensure a perfect custom fit.
100% Weatherproof & Waterproof: Designed in the USA, iCarCover offers heavy duty car covers for automobiles and ford mustang accessories that are superior in quality. Our outdoor car covers offer a soft cotton inner lining to prevent scratches and protection from all-weather options including waterproof, snow, rain, hail, also 100% sun and UV protective.
Secure your Vehicle with Confidence: The perfect automotive exterior accessory. Our windproof and anti-theft car covers features three heavy duty straps to keep the cover in place during heavy winds.
Advanced Features: Waterproof lined seams prevent leakage and air ventilation prevents humidity and water. iCarCover all weather car covers can handle it all. Our thick high grade GSM materials are machine cut, multilayered and bond-pressed for optimal protection.
100% Warranty & Automotive Exterior Accessories: We offer a 100% warranty on your car cover, including car accessories like antenna patches, grommets, wind straps and a storage bag for compact storage. Experience the ultimate combination of style, protection and peace of mind with iCarCover's heavy duty car cover.
Also be sure to check out our "Best Of" Series:
From YouTube
Porsche Museum Heritage Talk on the Porsche Boxster (Full Video)
Grant Larson and Horst Marchart talk about the history of the Boxster and the new Porsche Boxster 25.
Grant Larson went to Porsche in 1989. As an Exterior Designer, Grant was responsible for bold and breakthrough designs for the original Porsche Boxster. Other notable designs led by Grant include the Carrera GT, Porsche 997, and Turbo 997 to only name a few models.
Horst Marchart's roadster concept made more use of the carry-over parts principle. The first 986 generation Boxster shared the front end, doors and numerous other components with the 996 generation 911, which launched in 1997. This was a year after the Porsche Boxster was introduced. This move resulted in significantly lower production and inventory costs for both product lines, and some rigorous cost management.
These frank interviews and discussion give tremendous insight into the Origin story of the Porsche Boxster. Sit back and enjoy!
From the Internet
New and Used Books from Abebooks
Other Articles of Interest
Last update on 2023-12-10 / Affiliate links / Images from Amazon Product Advertising API