When working on your Boxster, you must learn the procedure on how to correctly jack up your Boxster. The procedures for lifting a 3000 lbs (1360 kgs) car are not for amateurs and it requires the right tools to be successful.
Know Your Jack Points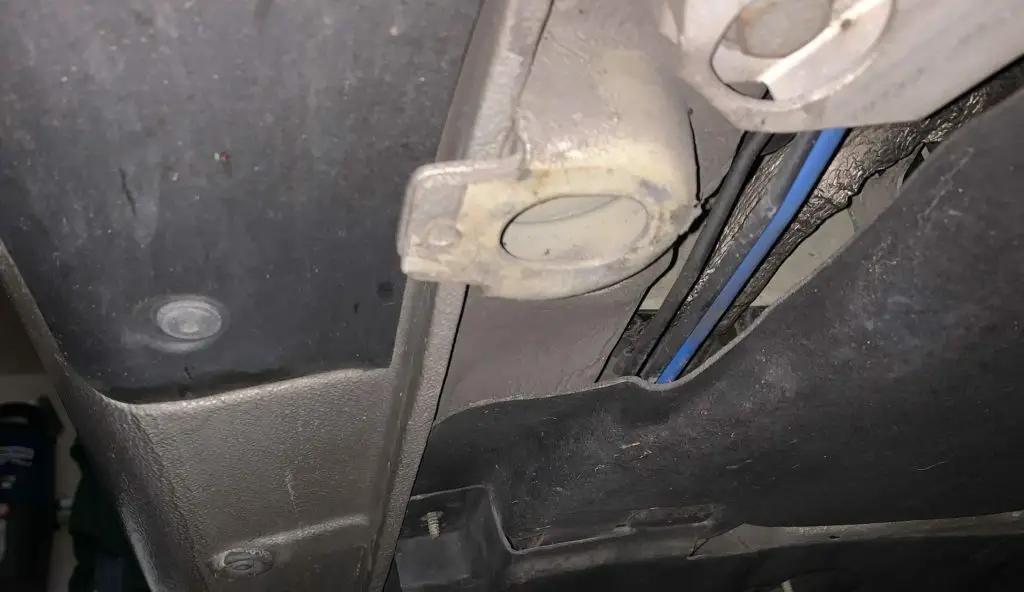 The Boxster has a total of 4 designated jacking points. These are located in front of the rear tires and behind the front tires. These spots work well for raising an individual wheel off the ground in order to change a tire. When the vehicle is lifted by using these jack point locations it is not possible to place a jack stand there.
A good reference book for jacking up you Boxster can be found here.
Sale
Recommended Tools
1.0 Low Profile Hydraulic Jack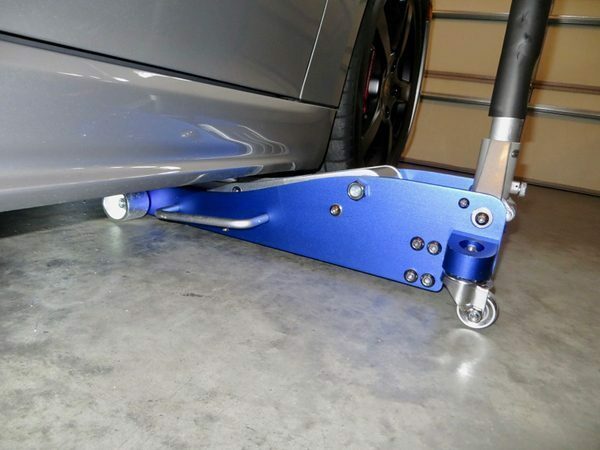 Standard Hydraulic jacks will not work with your Boxster. They will not fit under your vehicle. As a result, it is recommended that you use a Low profile hydraulic jack with a minimum of 3000 lb capacity. Many standard jacks will have trouble getting under the vehicle sufficiently to jack up your Porsche. Low Profile Hydraulic jacks are also referred to as Racing Floor Jacks.
Most jacks come with a removable insert. In order to minimize damage to the vehicle undercoating replace the standard head with a customized hockey puck.
2.0 Standard Jack Stands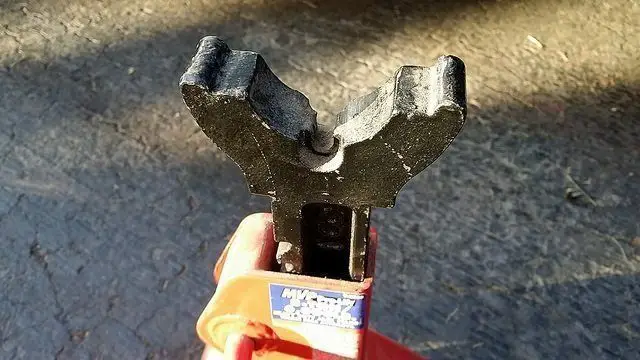 I don't recommend conventional jack stands with the v-shaped tops. You need to pay VERY close attention to the contact points under your car and ensure that the tips are on very flat locations under your car and that they do not shift under the weight of the car. Jack stands should be placed under the four actual jack points. You do not want the car resting on anything other than those points for an extended period of time. Nothing should be bending, you should stop and double-check everything is correct.
3.0 ESCO 10498 Jack Stands
A Porsche Club of America (PCA) member recommended ESCO 10498 Jack Stands (3 Ton Capacity). These stands come with flat tops and are perfect for use with your Boxster. These stands are a bit more expensive than conventional stands and are considered an upgraded pick for jack stands.
I wish I had purchased the ESCO stands as my original stands. I have done maintenance on many vehicles throughout the years and had always used jack stands with v-shaped tips or tops. The v-shape is for lifting parts of your car so as to not damage pinch welds that are generally in line with the jack stand mount points on the bottom of many vehicles, EXCEPT Boxsters.

One issue with the Boxster cars is that the jack support spots are very specific and do not have much room for error (if any.) Using the wrong location for jacking up your car or supporting the weight of your car can result in major damage to the bottom of your vehicle.
Sale
Bestseller No. 1
ESCO 10498 Jack Stand, 3 Ton Capacity, Silver
Minimum height 13.2 in.
Maximum height is 21.5 in.
Sold individually
Stand is powder coated to prevent rusting and corrosion
6,000 lb. capacity per stand
10 adjustable height positions
3 ton capacity per stand
Anodized post with rubber lifting pad
Base dimensions 12 in. x 12 in.
Tested to ASME standards by A2LA Certified Testing Facility
4.0 JackPoint Stands
A solution to this issue was delivered by JackPoint Jack Stands. You use the head (or top) of the Jackpoint stand on your low profile hydraulic jack. lift your vehicle above the height of the JackPoint stand and then slide the Jackpoint base into a position to support the JackPoint head. The Jackpoint stand wraps around the low profile hydraulic jack. You can then remove the low profile hydraulic jack.
These tools and their application are all part of knowing how to jack up your Boxster.
5.0 Ultimate Dual Locking Positions QuickJack
QuickJack gets your vehicle about 21″ in the air in less than 30 seconds.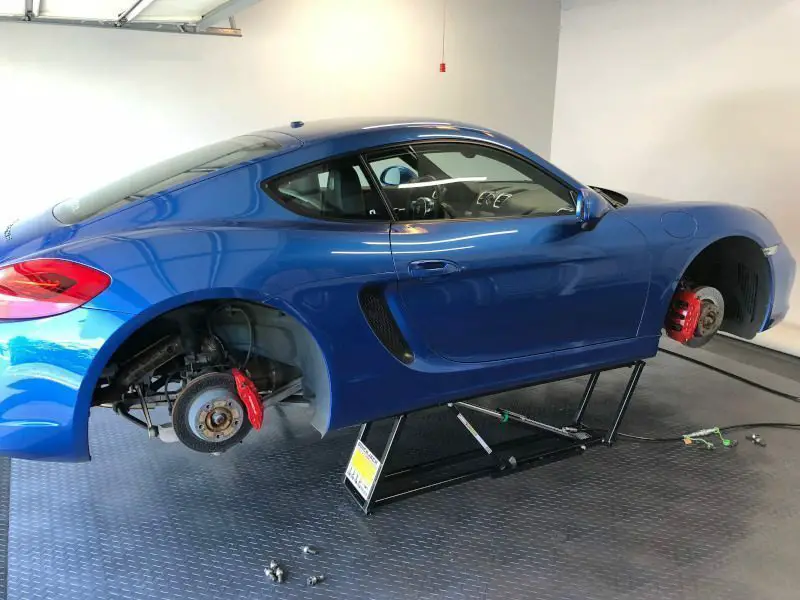 The BL-5000SLX has a 5,000-lb. lifting capacity. As the smallest and lightest frame assembly in our lineup, the true strength of this portable car lift is that it goes virtually anywhere. This QuickJack is so lightweight and space-efficient that it fits in the average car trunk or backseat. Following the initial one-time assembly, all you have to do is hook up the power. With the frames and rubber blocks in place under your vehicle's lift points, QuickJack will be up and running in no time. It's really that easy.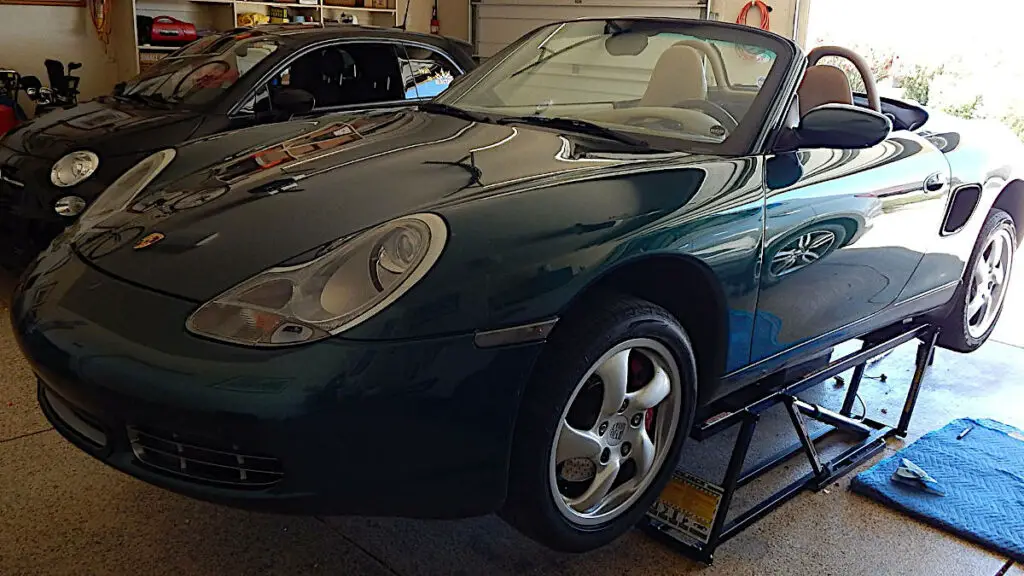 Its super-low 3″ profile lets the QuickJack fit where other car lifts and jacks can only dream. And because there aren't any cross members to worry about with this portable garage lift, you can tailor the platform spacing to fit nearly any vehicle 5,000 lbs. and under. Its lightweight nature makes this portable car lift the perfect tool for the track. Hundreds of satisfied racers and enthusiasts have enjoyed QuickJack for quick wheel service or tune-ups away from home. An optional DC power unit connects the car lift to your car battery or portable battery pack.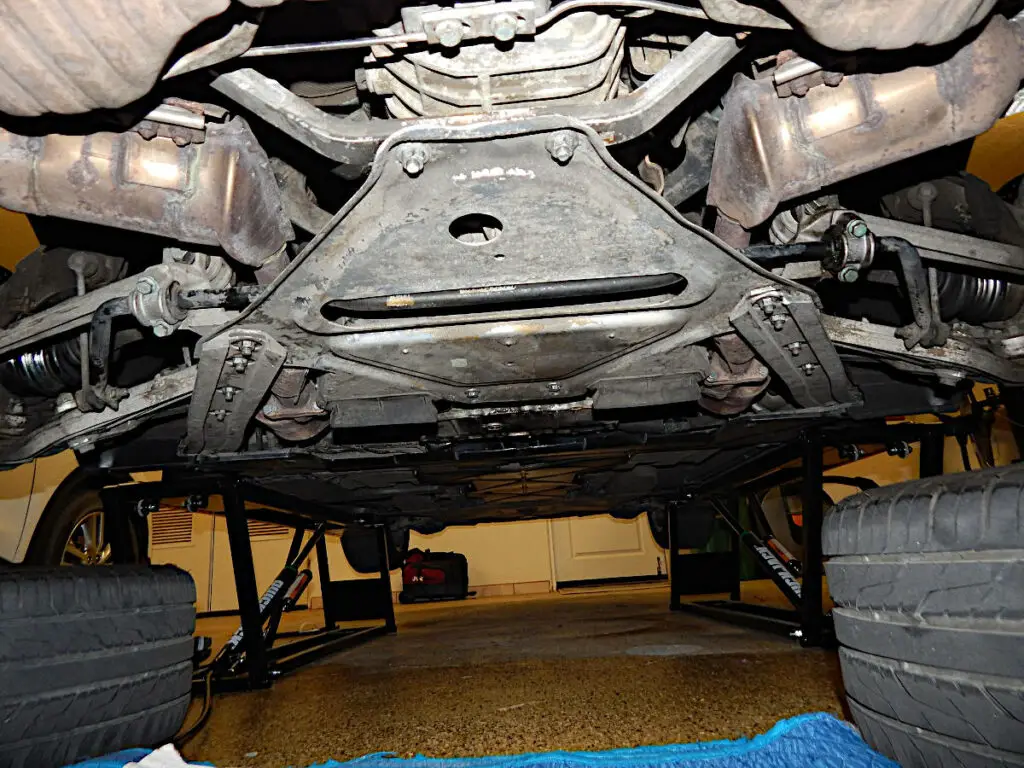 Upgrades from the QuickJack to consider would be a 2 post or 4 post lift.
6.0 Using Quick and Easy Ramps
For quick oil changes, portable car ramps are extremely convenient, especially for doing oil changes and quick inspections under your Porsche Boxster. Rhinogear and others make excellent ramps that are lightweight, easy to use, and carry.
The RhinoGgear  are made of lightweight plastic and specifically molded to withstand 16,000 lbs.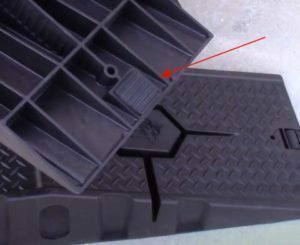 The ramps come equipped with a rubber brake pad on the bottom front of the ramp to prevent any slippage when a car is using them. As the car enters the ramp, the weight of the car is used to compress the rubber brake pad onto the surface to prevent the ramp from sliding away. I have had both metal ramps and plastic ramps actually slide away as the car enters the ramp and this is not safe. The RhinoFear ramps stay in place.
Each Ramp is designed to withstand 4000lbs, which is more than your Porsche Boxster by +25%. Please note that the primary use of these ramps is for oil changes, so when you are using the ramps with your Porsche Boxster you will be backing up onto the ramps.
The design of the ramps allows the ramps to stack onto each other which makes both storage and transport a breeze. RhinoGear Ramps are a very popular, quick, easy, and cost-effective solution.
Come oil change time I use them on all 3 of my cars. Keep in mind that car ramps are actually safer than using jack stands.
Preview
Best Value
Title
Race Ramps RR-40 40" Race Ramp- Pack of 2
Black Widow PSR295 Plastic Car Service Ramps
RhinoGear 11912ABMI RhinoRamps MAX Vehicle Ramp - Pair (16,000lb. GVW Capacity)
Dimensions
40.16 x 9.84 x 7.09 inches
37.2 x 13.1 x 11.5 inches
Preview
Title
Race Ramps RR-40 40" Race Ramp- Pack of 2
Dimensions
40.16 x 9.84 x 7.09 inches
Preview
Title
Black Widow PSR295 Plastic Car Service Ramps
Best Value
Preview
Title
RhinoGear 11912ABMI RhinoRamps MAX Vehicle Ramp - Pair (16,000lb. GVW Capacity)
Dimensions
37.2 x 13.1 x 11.5 inches
Sale
RhinoGear 11912ABMI RhinoRamps MAX Vehicle Ramp - Pair (16,000lb. GVW Capacity)
Portable automotive ramps with a rugged and structural design
Provides reliable and convenient access to the underside of your vehicle as well as nestability for maximum storage space
CoreTRAC non-skid base helps reduce slippage
17 degree incline provides easy use for low clearance vehicles
16,000 pound GVW (gross vehicle weight) capacity
9 Rules for How to Jack Up your Boxster
1. Work with a Friend
Always work with a friend. They will keep you company, hand you tools, share knowledge, and in case of an emergency call 911 (999, etc).
2. Use Level Ground
ALWAYS have your vehicle needs on level ground, this will save your life. Stands, Jacks, and Ramps are meant to work on level ground. Any slope will result in a level of instability.
3. Use Stable Ground
Park your vehicle is on solid ground (concrete is the best.) If you are using asphalt or pavement to be aware of the external temperature and how it can cause the asphalt or pavement to dramatically soften under the weight of your vehicle. When you are jacking your Boxster on asphalt, reinforce the ground with thick plywood. It will increase the stability of both your jack stands and jack.
4. Read Your Owner's Manual
Please read your owner's manual. All vehicles have recommended points for using jack stands, and capacity requirements for the use therein. Use jack stands that can support 50% of the weight of your vehicle.
5. Stabilize your car using Chocks
Put your car in gear. Place Wheel chocks opposite where you are lifting. Use two chocks, in front of and behind the wheel to make sure your car does not roll in any direction.
6. Lifting the Vehicle
Choose a jack point in the center of the front or rear suspension or frame (as outlined in your Owner's Manual.) Or jack up the vehicle using a solid jacking point (as outlined in your Owner's Manual), leaving enough room for the jack stand to support the car.
7. Supporting your Vehicle
Always support your vehicle using Jack Stands as opposed to the jack itself. Jack up your vehicle and then support the weight on a jack stand, never depend on the jack (solely). Adjust your stands to your desired height and lock your stands in place using the locking pin or pawl. Do not use wood to gain more height as the wood can slip or split causing horrific results. NEVER (we can't stress this enough) ever put any part of your body under a vehicle supported only by a jack!
8. Check Each Jack Stand
Check each jack stand is supporting the vehicle. Make sure that the stand when under the weight of the vehicle cannot move or become loose. Make sure that you cannot wiggle the stand even only fractionally. Ensure all jack stand pins, pawls, and locks are set properly to prevent any chance of collapse.
9. Shake Your Car
Gently shake your vehicle to confirm it is secure. Your car should not move at all! An unstable jack stand may collapse and should never be at an angle or be able to move from its original position and alignment. Once your car passes the shake test, it is safe to work on your vehicle.
You can start work when your vehicle is safely supported on Jack Stands.
Note: Even the use of jack stands does not eliminate all danger in being underneath a vehicle.
All around the world mechanics, car enthusiasts, DIYers, and people in a hurry have damaged vehicles, even injured or killed themselves or other people, for skipping this critical safety step! No matter how experienced you are or how quick the job will be, you must never forget to support your vehicle properly, every time you need to lift your car. PERIOD.
You need to know how to jack up your Boxster.
Other Items
Sale
Bestseller No. 1
Bestseller No. 2
Also, be sure to check out our "Best Of" Series:
Other Articles of Interest:
Jack Up Your Boxster FAQ
What Rules for How to Jack Up your Boxster?
1. Work with a Friend
2. Use Level Ground
3. Use Stable Ground
4. Read Your Owner's Manual
5. Stabilize your car using Chocks
6. Lifting the Vehicle
7. Supporting your Vehicle
8. Check Each Jack Stand
9. Test Shake Your Car
Does jacking up a car mess up alignment?
If you are using the correct equipment, following the 9 rules of Jacking, and use the specific jack points, you will not affect the alignment of your wheels.
Last update on 2022-10-01 / Affiliate links / Images from Amazon Product Advertising API