A Critical Issue on Porsche Boxster 986 cars, made before 2003, is when their Boxster Rear Plastic Window becomes CRACKED.
Porsche produced the original Boxster with a plastic rear window. The limitations for the use of the rear plastic window are quite high because of "cold crack", scratching problems, and the oxidation of the plastic (yellowing).
In 2003 Porsche upgraded the Boxster to a glass rear screen, however, Porsche changed the pattern at the same time making it impossible to upgrade the old cars with the new convertible top from Porsche.
Although it is possible to both retrofit a new convertible top with a rear glass window or even a glass rear window in place of the rear plastic window on the pre-2003 Porsche Boxster 986. We have multiple articles on this at Boxstertips.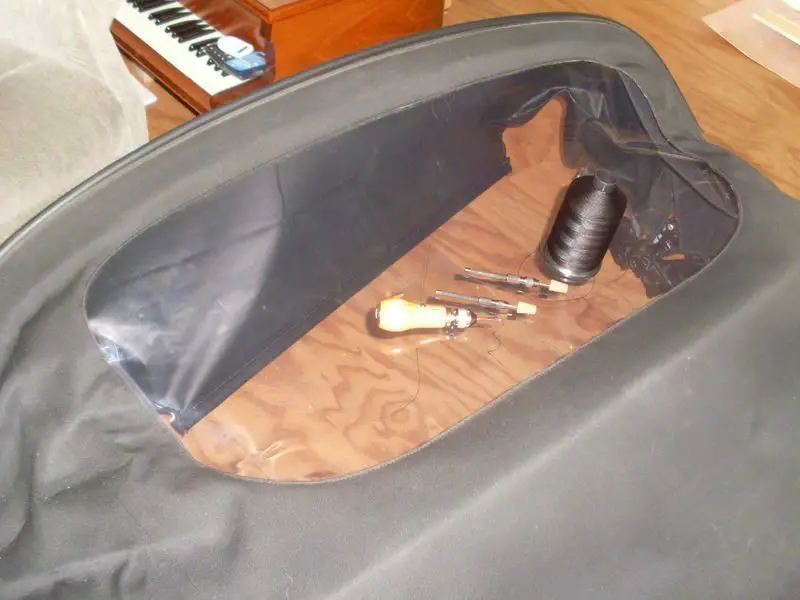 1.0 Not recommended to lower the 986 top in real cold weather
Be very careful when opening your convertible top in cold weather. The colder the weather the more prone your plastic rear window is apt to crack.
Newer windows are very pliable but age sees the rear plastic windows get brittle and inflexible.
Never use your convertible top below 40°F or 5°C!
2.0 Boxster Chop
All owners of a 986 with a rear plastic window need to learn the "Boxster Chop". You need to get your black belt in this critical defensive maneuver.
When you do lower the top, open the top enough to start the rear window folding then get out of the car and do a 'chop' with your arm/hand and make a nice even crease/fold in the window so when you open the top all the way the window doesn't develop a compound fold/crease.
The "Boxster Chop" is recommended in all weather conditions as a defensive measure.
Many 986 owners opt to get a new canvas top, complete with a new glass window. If you're looking to buy an early Boxster 986, please keep in mind this upgrade and the costs involved.
All Boxster Forum Sites will have multiple dedicated threads on this issue and offer many solutions for resolution.
Please note that Replacing the Convertible Roof is Project 70 in the 101 Projects for Your Porsche Boxster.
3.0 From Amazon
Sale
Bestseller No. 1
Bestseller No. 2
Bestseller No. 3
Convertible Soft Top Compatible with Porsche 1997-2002 Boxster & Boxster S 986 2Door - With Plastic Window Canvas Black Stayfast Cloth
Fitment: Compatible with Porsche 1997-2002 Boxster & Boxster S 986 Convertible 2 Door. Please confirm your car model before purchasing to avoid that the purchased product is not suitable for your car.
Features: The Soft Top is made of reinforced canvas + plastic, which is resistant to high temperatures and will not turn yellow. Strict stitching technology can prevent rain, wind and sun. In addition, the visibility of the windows is particularly good.
Trustworthy Quality: Every component is strictly screened and analyzed during manufacturing. The top does not require sewing and is fully assembled and ready to be installed.
Package included: 1 x Soft Top with Plastic Window. This product is made of reinforced Canvas + Plastic Window, waterproof and dust proof, excellent performance, can provide long service life.
Installation: Mounting Hardware NOT Included. Instructions NOT included. Screw, clip mounting mode. Professional installation is strongly recommended.
Bestseller No. 4
Bestseller No. 5
Bestseller No. 6
Bestseller No. 7
986 987 Boxster Convertible Soft Top Push Rod Ball Joint OEM Repair Kit
Repair Kit Includes: 2 X Porsche 986 987 Boxster Convertible Top Push Rod Ball Joint
If you own a Porsche 986 Boxster, more than likely your convertible top will suffer from the infamous broken plastic push rod end. Porsche used a plastic end on the push rod used to operate the convertible top. These plastic ends are notorious for breaking and unfortunately can set you back $150 if you have to buy 2 new push rods since the dealer does not sell the plastic end piece separately.
The Plastic used is the mixture of glass fiber which i heat resistance and durable.
Porsche Applications: Boxster (1997-2012)
Bestseller No. 8
A-Premium Black Convertible Soft Top with Clear Plastic Window Compatible with Porsche 986 Series Boxster 1997 1998 1999 2000 2001 2002 Convertible
【Vehicle Fitment】Perfectly fit the original model: Compatible with Porsche Boxster 986 1997-2002 Convertible; Reference Number: PBl003; Built to factory original quality specifications or better to ensure a proper fit and longest life
【First Quality Cabrio Vinyl】This 1 piece top design is an economical alternative for your vehicle that retains the same quality as the original. Made of high-quality waterproof fabric, it can easily resist external rain, prevent rainwater leakage, and at the same time have the function of wind resistance and sunproof
【Superior Visibility】The window use the OEM quality press polish plastic for superior visibility; Strong bonding, no more window seperation; Made of transparent PVC material, high temperature resistance, wear resistance, easy to scrub
【Perfect Stitching Technology】The top deck is made with a deck seam down both sides. All seams are heat sealed. To add to the strength, the seams are reinforced with a double stitch for extra support.
【Buy with Confidence】1 Year Unlimited-mileage Quality Guarantee---We extremely value your satisfaction and strive to provide you good shopping experience. Any further question, please feel free to contact us at any time.
Bestseller No. 9
4.0 From the Internet:
Top 5 Recommended Boxster Web Forums (Excellent Resource for repairs and advice)
6SpeedOnline – Rear window ripped, now what?
PedrosBoard – Rear window replacement question for 986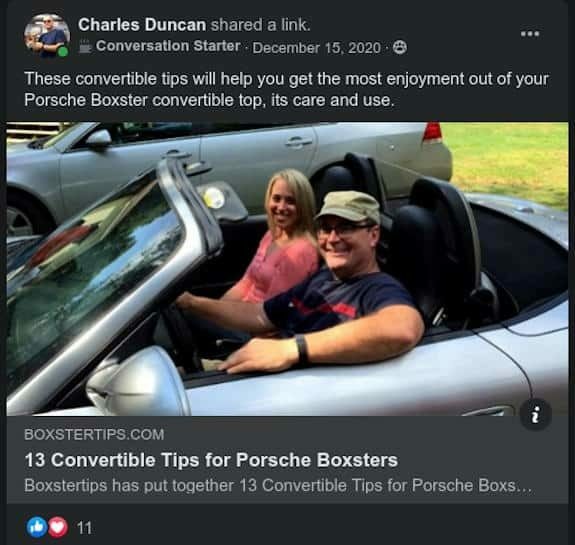 Also, be sure to check out our "Best Of" Series:
Last update on 2022-10-20 / Affiliate links / Images from Amazon Product Advertising API