When owning a Porsche, it is just a matter of time before you will need the use of a good OBD II Diagnostic Scanner Tool. The scanner will allow you to read and clear trouble codes any time you encounter a "check engine light" or CEL error.
Check Engine Light (CEL) Errors
If you encounter a CEL error, take the time to read the error code as soon as possible. The check engine light alerts you whenever there is a problem with one of the components or systems in your Porsche Boxster.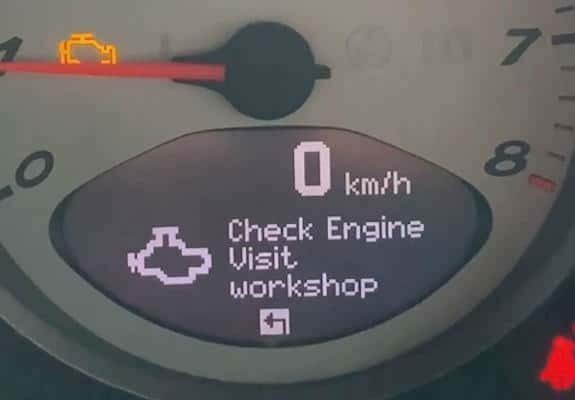 However, if you encounter a "flashing CEL" error, pull over, stop the car at once (turn the engine off) and arrange to have your car towed.
With a flashing CEL you can read the error code with an OBD II scanner tool with the key in the "ACC" location, but do not start or run your engine.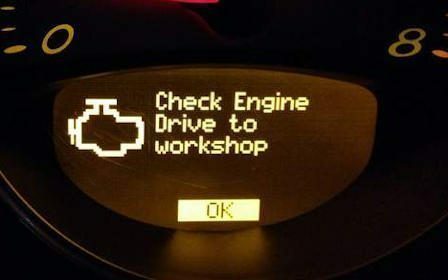 Is it safe to drive your Porsche Boxster with the CEL Warning On?
If you experience a CEL error, you need to get the CEL code read ASAP. Many drivers carry an OBD II scanner tool in their Boxster. You need to watch the code and be prepared to stop your Boxster if the CEL warning commences flashing. Never drive your Boxster with a flashing CEL. If your Boxster has a flashing CEL you need to turn off the engine and have the Boxster towed for service.
If the CEL light is on and your Boxster appears to be driving normally with no difference in performance, you need to read the CEL code with an OBD II reader tool. Once you obtain the code you can then make an informed decision on whether to drive the Boxster.
It is very common for the incorrect closing of the gas cap to cause a CEL error. This can happen out of haste or unfamiliarity with using the Porsche gas cap. When fueling your Boxster, you need to turn the gas cap until it clicks over 2-5 times to ensure that the gas cap has a good (and thorough) seal.
If your CEL error is related to the EVAP system, you should reset the CEL code, check the gas cap for proper closure and drive your Boxster to determine if the CEL error is a persistent problem (reoccurs).
Porsche Diagnostic OBD II Scanner Tool
You will need the use of a Porsche-specific OBD II tool to reset any OBD "check engine light" CEL warnings. An OBD II scanner will identify any fault codes and clear them.
The OBD II scanner tool is your first step in diagnosing any issues with your car. This tool will pay for itself the 2nd time you use it.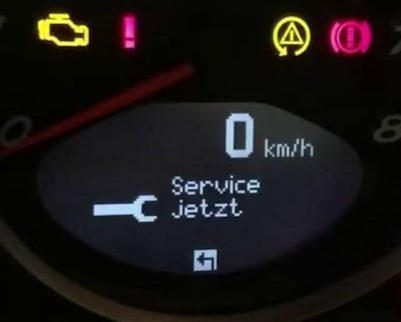 You will also require this tool to reset the Oil Change light when it occurs and to reset OBD oil mileage each time you do an oil change.
If you are a Porsche Club member, and we highly recommend it, you can make use of the club for advice. Porsche Club members can be asked for local advice on getting your CEL codes read and cleared. Other Porsche Club members are often happy to help and are ready with advice.
Porsche Boxster OBD II Port Location
The OBD II port location is located under the dashboard, beneath the left of the steering wheel column.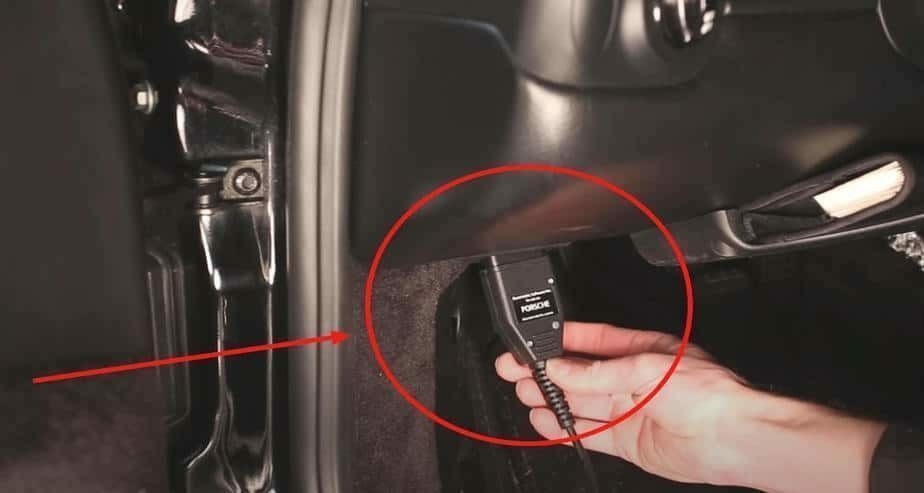 1. Porsche Integrated Workshop Information System (PIWIS)
The primary diagnostic scanner tool for Porsche Boxster is the Porsche PIWIS. We refer it to as the "Porsche Hammer". The Porsche PIWIS is the most powerful diagnostic tool for all Porsche vehicles.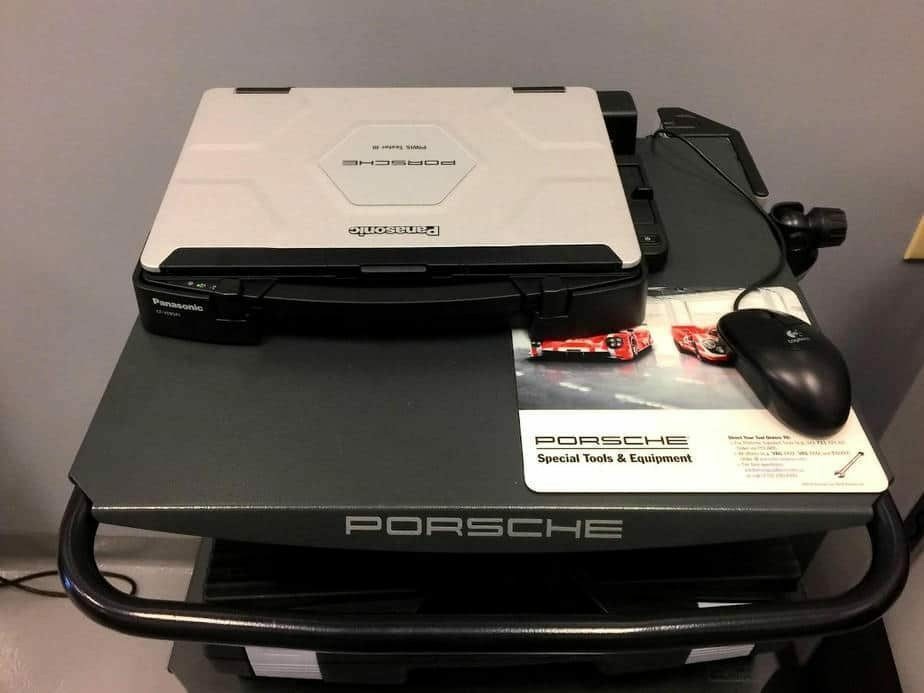 The Porsche PIWIS is used at Porsche dealerships for diagnosis, troubleshooting, and programming. It is not a practical purchase, it is very expensive and has a very steep learning curve. The PIWIS is available on a long-term lease from Porsche for $12,000 USD per year.
2. Durametric Diagnostic Tool for Porsche
Another tool is Durametric Diagnostic Tool for Porsche. It is a great tool for Porsche mechanics. The Durametric Diagnostic Software is an alternative to the Porsche PIWIS dealer scanner.
The Durametric Diagnostic Tool for Porsche provides in-depth troubleshooting and has great model coverage. There are multiple license options, including a single car license that is locked to the VIN.
Unfortunately, the Durametric Diagnostic Tool for Porsche costs several hundred dollars and requires a laptop to run.
Durametric has an Enthusiast Kit starting at $287 USD that supports up to 3 cars and is locked by the VIN of each car. This is the best tool and assure full compatibility with your Porsche. Their support is exceptional.
You can buy the Durametric Scanner here (directly from Durametric.)
3. iCarsoft POR-II Porsche OBD-II Scanner Tool Multi-systems ABS SRS
The iCarsoft POR-II Porsche OBD-II Scanner Tool  has an excellent following on multiple Porsche forums. Please take the time to do your own research. We have not tested this unit, but it is very popular with many forum members.
The iCarsoft POR-II Porsche OBD-II Scanner Tool is an excellent low-cost tool (for what it does) and it will read all of your codes and even reset the oil change warning.
4. FOXWELL NT510 Elite Scan Tool for Porsche
Sale
Porsche OBD2 Scanner Bidirectional All System All Maintenance FOXWELL NT510 Elite Scan Tool, Check Engine Code Reader ABS Bleed SRS EPB SAS TPS Active Test Battery Registration Diagnostic Scanner
📣【PURCHASE NOTE】1️⃣The ALL SYSTEM diagnose and MAINTENANCE RESET SERVICES are only supported for porsche. 2️⃣Only after clear the fault code, you can do the reset. 3️⃣Please send the VIN to confirm the compatibility before the purchase because the compatibility will vary from specific year and model. 4️⃣If encountering any hardware or software issues , kindly reach out to us for help.5️⃣Some reset services only support car before 2019, contact us before purchase.
🌻【Accurate & Intuitive All System Diagnosis, Promptly Know All Status】Spend less than $200 to read/clear code and turn off flashing warning lights on dashboard of all control system, including engine, ABS, SRS, SAS, Transmission, EPS, Keyless Access, LKAS Control, ect. You can diagnose what the issue is and severity of trouble codes before taking it to the dealership or any mechanic, and you don't get overcharged. Supporting Cayenne, Boxster,Cayman,911,Panamera,Carrera GT,GT3,GT2,Macan.
🧰【Over 30 Maintenance Services, Valuable for your Porsche】Do maintenance by yourself for your porsche. The scan tool supports body, chassis, powertrain and other control modules check, and performs coding/programming. Such as abs bleeding, oil light reset, idle speed adjustment, traction/throttle body adjustment, troubleshoot A/C, reset CBS condition-based service, activate alarm, regenerate diesel particulate filter, replace battery, crankshaft sensor relearn, key fob programming, ect.
🧰【Advanced Bidirectional Porsche Diagnostic Tool / Active Test】Saving thousands from the dealerships. This obd2 scanner for porsche allows you to control a vehicle system or component to test which component is bad without using the vehicle controls, such as Fuel Injector Pump, Window/Mirror/ Door Lock/ Horn, Cycle A/C Clutch On/Off, Air Conditioning, Wiper, etc.
💡【High Recommended to DIYERs】NT510 Elite scan tool for Porsche(from 1996-2022) is surely the best scanner for DIYers. ✅Bidirectional Operation, Active Test, Key Programming✅ and many other service reset all in this scan tool. ✅Moreover, if you have another vehicle make need to be tested, instead of buying another scanner, just pay $60-$80 to add one more on your NT510Elite. (📢: Compatibility varies under different car conditions, please provide us with your car's detailed info before adding)
🔕【Auto ABS Bleeding Scan Tool】The air will get inside when replace components such as calipers, wheel cylinders, the master cylinder, brake lines or hoses. This foxwell nt510 for porsche abs auto bleeding scan tool will help bleed the brake, cycling the pump and valves during the bleeding process to get a firm brake pedal and keep a safety driving on the road.
🧰【Full OBD Test for OBD Cars】The porsche scan tool features the complete 10 functions of OBDII test with Live PCM Data Stream in graphics formats, Read/Clear DTCs and do smog tests, I/M readiness and O2 sen--sor tests, read freeze frame data, EVAP system test, retrieves vehicle info, Malfunction Indicator Light (MIL), Real time battery voltage and more.
🧰【Do More for You】FOXWELL nt510 porsche has ability to graph, record,replay live data streams with 2 PIDs graphing&numerous live PIDs in text. ▶ AutoVIN service automatically retrieves vehicle VIN,making car diagnostics easier.▶ Friendly design&Easy to use. ▶More Brand. ▶ Playback&data print.▶Lifetime free update ect.
FOXWELL NT301 CASE OBD2 Scanner Professional Enhanced OBDII Diagnostic Box
📌OBD Scanner Protection Case---The small carrying case is specially designed for HANDHELD-SIZED automotive obd ii scanners, not limited to NT301, NT510 Elite, NT201 Foxwell diagnostic tool, Foxwell BT100 Battery Tester, Wifi Endoscope. Inner Size: 7.9*5.5*2.4inch. Just a Case, scanner is NOT INCLUDED.
📌Made-To-Measure---Tailor engineered to snugly hold the FOXWELL NT301. An interior pocket carries all necessary cables in one convenient location.
📌Environmentally Friendly Material---EVA rubber and plastic products has a good buffer, earthquake, heat, moisture, chemical corrosion resistance, and non-toxic, non-absorbent. Polyester Fibre has oil resistance, particularly high and abrasion resistance. With those new environmentally friendly material, the carrying case protect your scanner against daily wear and tear.
📌A Smarter Way To Carry and Store---With this protection carrying case, you can prevent your scanner from being damaged whether you place it in a trunk, toolbox, or garage.
📌More Accessories to Hold---The box also got a interlayer for accessories such as extension cables. It is an accessory and necessity for car tools, electrical tools, home tools,etc.
Other Amazon Porsche OBD II Scanner Tools
Check with Brand manufacturer to ensure year make and model of Porsche is supported.
Also, be sure to check out our "Best Of" Series:
Our "Best of" series covers the best of batteries, battery chargers, wipers, car covers, books, and many more items.
Join Our Facebook Group
Other Articles of Interest
Last update on 2022-10-20 / Affiliate links / Images from Amazon Product Advertising API