Porsche Boxster Zunsport Radiator Grilles are an excellent upgrade for your Porsche Boxster. The grilles are both stylish and functional. Best of all these custom grilles will save you time in having to clean your radiators and AC condensers.
Check Your Radiators Now
If you do not have radiator grilles on your car and have not done any yearly cleaning maintenance around your radiator intake areas. The chances are very high that you are running your car with reduced airflow on your radiators and ac condenser.
The cooling efficiency of your engine is diminished and this can be confirmed in minutes using a flashlight and knowing where to look.
Maintenance and cleaning of your radiators is the highest overlooked routine on your Boxster
Why You Need Zunsport Radiator Grilles for your Porsche Boxster
Unfortunately, the design of the Porsche air intake that is built into the front bumper leaves radiators fully exposed. The aerodynamic efficiency of the bumper and the low design make the radiators magnets for all levels of road debris.
It is inevitable that your radiators we become covered in dirt and debris.
Next to maintaining the proper level of your radiator coolant, the cleaning and protection of your radiators will go a long way towards extending the life of your radiators and ac condensers. 
Sadly, the build-up of various dirt and leaves will make your radiators and condensers prone to the accelerated risk of corrosion. Leaves will amass in front and behind the ac condensers before decomposing and accelerating corrosion.
Corrosion on the radiators and condensers cannot be repaired, and only fixed by the replacement of the parts that have become corroded.
Cleaning Your Front Porsche Boxster Radiators
A highly recommended yearly maintenance task is Cleaning Your Front Porsche Boxster Radiators. The second time you need to do this maintenance, you will seriously consider adding radiator grilles to the front bumper of your Porsche Boxster.
At a minimum, we highly recommend yearly vacuuming of your radiators with a long hose and crevice tool to regularly remove any road debris. 
Please Research Porsche Boxster Radiator Maintenance
I only had to watch a couple of YouTube videos for the removal of the front bumper (easy enough). But the removal of the ac condenser and radiators to clean out (a lot of) road debris convinced me (instantly) to install Porsche Boxster Zunsport Radiator Grilles.
Watch this step by step Ben Burner YouTube video on you radiator maintenance and it will not take much convincing.
BTW: Ben's follow-up at the 5:10 mark in the video above is sage advice.
I have had my Zunsport grilles now since 2014 and have never given my radiators a second thought.
I have a dedicated page for the cleaning of your radiators here:
Cleaning Your Front Porsche Boxster/Cayman Radiators
Do Not Let Your Porsche Turn into a Leaf Collector
Zunsport Radiator Grilles are a recommended upgrade for any Porsche Boxster/Cayman. This upgrade protects your radiators from road debris. The Boxster Radiators are located directly behind the bumper.
Without protection, your radiators will collect just a ton of road debris, including leaves, stones, twigs, salt, small animals, even cigarette butts, etc. which over time can damage your radiators and cooling system.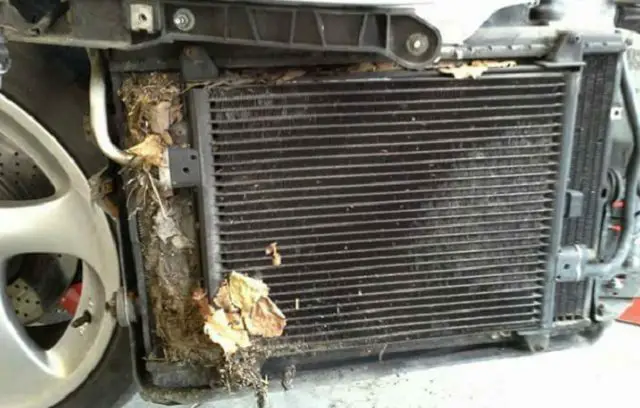 In the long run, this upgrade will keep your radiators protected for the life of the car.
Zunsport radiator grilles are both a functional and a stylish improvement for your Porsche. Otherwise, your Porsche will turn into a leaf collector (see below.)
Above all, custom made Zunsport Grilles are easy to install.

For this reason, I easily installed all the front grilles and side air intake grilles in under 15 minutes (start to finish.) These parts have a great fit and actually look stock.
In addition, I did not need to drill any holes or remove the front bumper to install any of the grilles.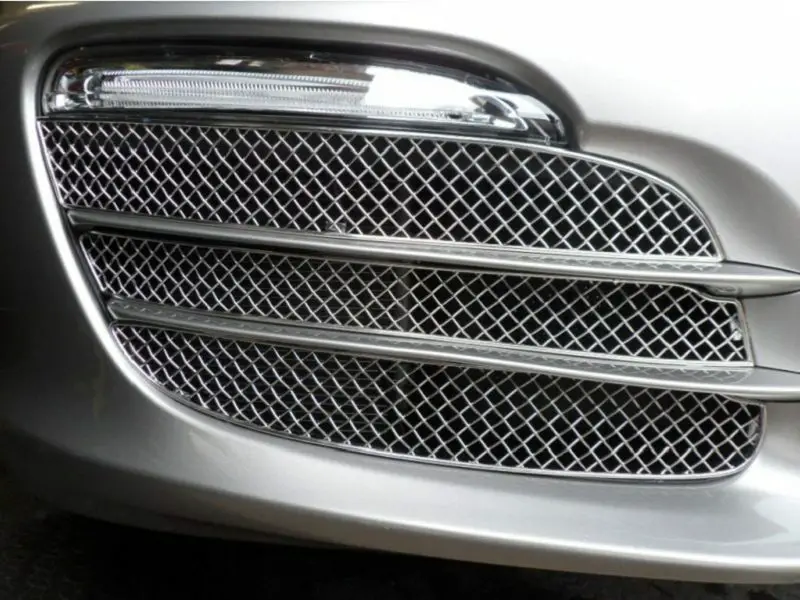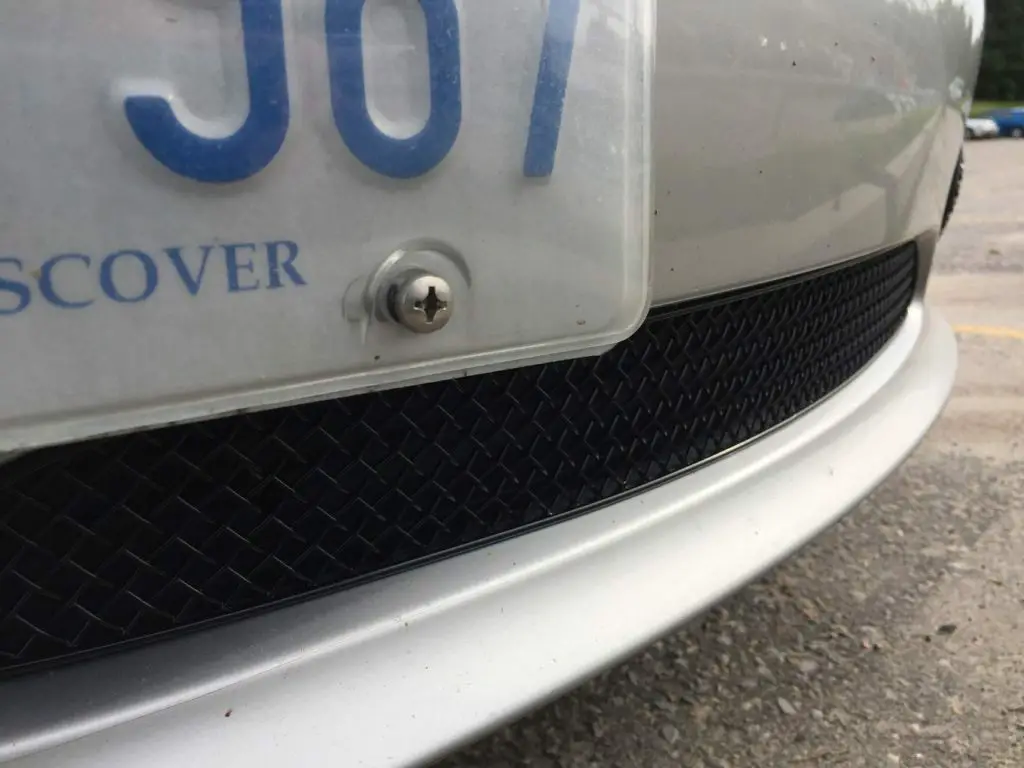 Benefits of Installing Porsche Boxster Zunsport Radiator Grilles
There are a number of benefits for using bumper grilles on your Porsche Boxster. Unfortunately the aerodynamics of the front of the bumper are truly efficient at directing air directly to the radiators. The bumper grilles protect you from:
road and track radiator damage caused by various debris (especially during track days)
inter-cooler damage or ac condenser damage and corrosion prevention
rust-free stainless steel design and protection
save your radiators from becoming clogged with road debris and reducing the efficiency of your cooling system for your engine.
no bumper removal to install
The cost of these custom grilles is a fraction of the cost of the repair of any damage to your car caused by not having them.
Zunsport Company Background
Zunsport is a specialist stainless steel car grille company. They manufacture car grilles for over 28+ car brands and 100s of models of cars. It is a family business for 3 generations.
Each grille is specifically designed for your make, year, and model of car. The fit on my 2009 Porsche Boxster S was as close to OEM look as I have ever seen. Each grille set comes with documentation, unique fitment clips, and brackets to make the installation simple and straight forward.
No drilling, no bumper removal, no glue, and very simple to install.
Simply ask anyone who uses this product and you will find that the results are excellent. I first heard of these products at many PCA events and Cars and Coffee get-together meetings.
Best Selling on Amazon:
Porsche Boxster/Cayman Zunsport Radiator Grilles FAQ
Will Fitting a Radiator Grill Affect Air Flow?
In comparison to the potential build up of road debris on you totally unprotected Porsche Boxster radiators and ac condensers, Zunsport reports that they "have had No Adverse Reports from customers and the grills have been produced for OEM customers who have had all the required testing for Air Flow passed."
What are the Zunsport Mesh Grill Specifications?
The Custom Zunsport Grills is a woven wire premium grade stainless steel.
The Black finish is a nylon polymer coating-800 hour salt spray test that leaves a smooth gloss finish and is not be confused with cheap powder coating. And the silver finish is an electropolished finish-800 hour salt spray test that leaves a bright shiny finish.
Can Zunsport Offer Different Colors?
Yes, Zunsport charges an extra service charge for custom paint colours and has a wide range of base colors.
Can I Paint of Spray my Custom Zunsport Grilles Another Color?
Zunsport strongly advises against painting over the original provided paint finish as the results will not adhere to the mesh surface and not be up to Zunsport standards
How are Zunsport Gilles Manufactured?
All Zunsport Grilles are hand crafted using custom-tailored jigs produced directly for your vehicle make and model.
Other Articles of Interest
Last update on 2023-09-27 / Affiliate links / Images from Amazon Product Advertising API