Tires for Porsche Boxster S or any Boxster and Cayman will be an ongoing issue to deal with. Rear tires tend to wear much faster than the front tires (3:1 ratio).
Rear Tire Wear
The Boxster is a mid-engine car, therefore the majority of the weight of the car is riding on the rear tires.
When I first bought my Porsche Boxster S, I went through a rear set of tires in under 10,000 km (or 6,000 miles.)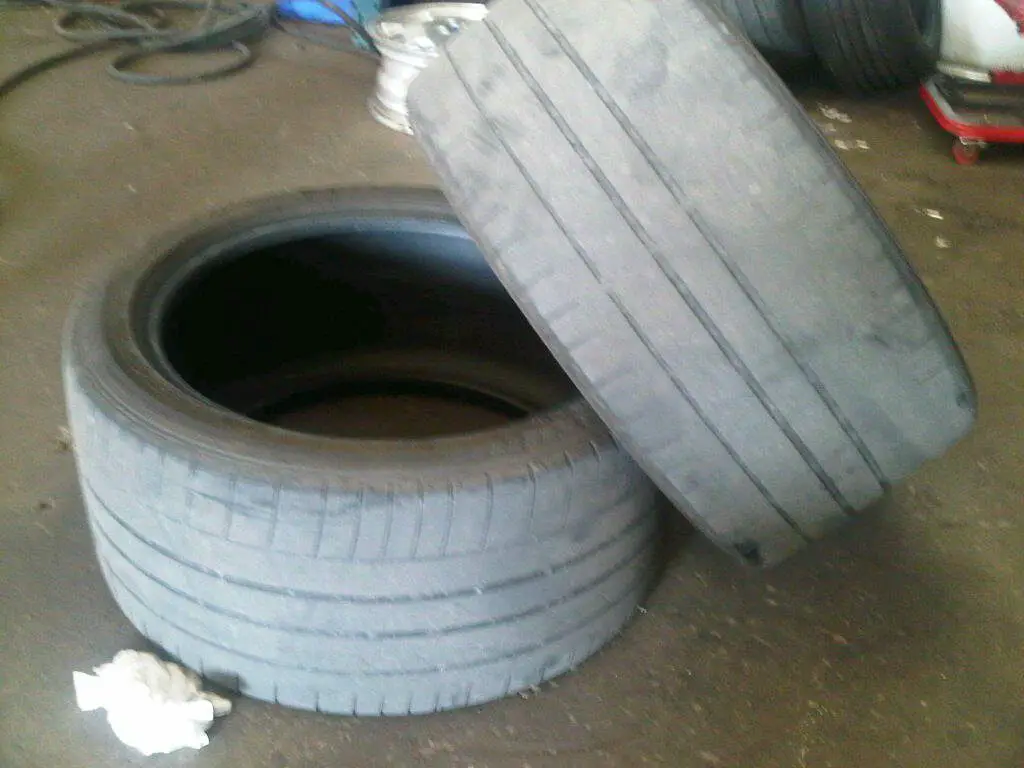 Tire Upgrades
My 2009 Boxster S came with Bridgestone Potenza RE050A tires.
Front Size:
18″
235/40-18
Rear Size:
18″
265/40-18
These tires were Porsche N1 rated. They did not last very long, but I was driving the tires and car very hard.
Wet Weather Driving
Loss of tread wear of your rear tires will first be experienced when driving in the rain. Brisk acceleration will result in the rear of the car kicking to the right. Be aware that this can happen and when it does proceed to get new tires or avoid driving in the rain.
Porsche N-Spec Tires Explained
Porsche N Specification tires are specifically designed to meet the stringent performance and durability standards set by Porsche. In collaboration with Michelin, Pirelli, Continental, Bridgestone, and several other top tire brands, Porsche has developed a tire that will surpass all of your performance expectations because they were designed with you and your Porsche in mind. Your Porsche was made to perform.
Branded as N-Spec
N-Spec tires that have passed all of the tests and received Porsche's engineering department's release can be branded with an N-specification. The N-specification brandings include N-0 (N-zero), N-1, N-2, N-3, N-4, N-5 or N-6. These markings on a tire's sidewall clearly and permanently identify them as approved by Porsche for their vehicles. The N-0 marking is assigned to the first approved version of tire design. As that design is refined externally or internally, the later significant evolutions will result in a new generation of the tire to be branded with N-1, N-2, N-3, etc., in succession. When a completely new tire design is approved, it receives the N-0 branding and the succession begins again.
Mixing N-Spec Tires
Porsche strongly recommends that only tires with the same manufacturer and with the same specification code (e.g. "N0", "N1" …) should be mounted on the vehicle. Tires should be replaced no less than in pairs on one axle at a time. Only tires of the same tire make and type must be used. Since many Porsche vehicles are fitted with different sized tires (or offset) on their front and rear axles, this requires matching the tire brand, tire name and N-specification front to rear. While the tire manufacturers may also build other tires featuring the same name, size and speed rating as the N-specification tires for non-Porsche applications, these tires may not be branded with the Porsche N-specification because they do not share the same internal construction and/or tread compound ingredients as the N-specification tires.
Replacing N-Spec Tires
Your Porsche was originally delivered with N-specification tires that have been discontinued and are no longer available, it is recommended to replace all four tires to a higher numeric N-specification design appropriate for that vehicle.
Break-in of New Tires
Initially, N-Spec tires do not have full traction. The driver needs to be fully aware of this and drive accordingly. New tires take approximately 100-200 km (60-120 miles) to be broken in and achieve suitable traction. New tires installed on only one axle will result in a noticeable change in handling. This occurs due to the different tread depths of the other tires. This happens especially if only rear tires are replaced. However, this condition disappears as new tires are broken in.
Tire Aging
I attended a PCA Tech Tactics EAST in Easton, PA, USA and tire aging was a critical point covered. A Michelin Engineer went over that the chemical additives that make rubber elastic lose their effectiveness in the course of time. The rubber becomes brittle and cracks. Considering the performance capabilities of a Porsche, under no circumstances should tires older than 6 years be used.
PCA Tech Tactics is a day dedicated to Porsche's technical information. This event is for all Porsche enthusiasts, from the casual information gatherer to the every day Porsche mechanic. Get the latest information directly from the source. Topics range from how to balance carburetors to understanding how the new hybrid systems work.
 PCNA Training Facility in Easton, PA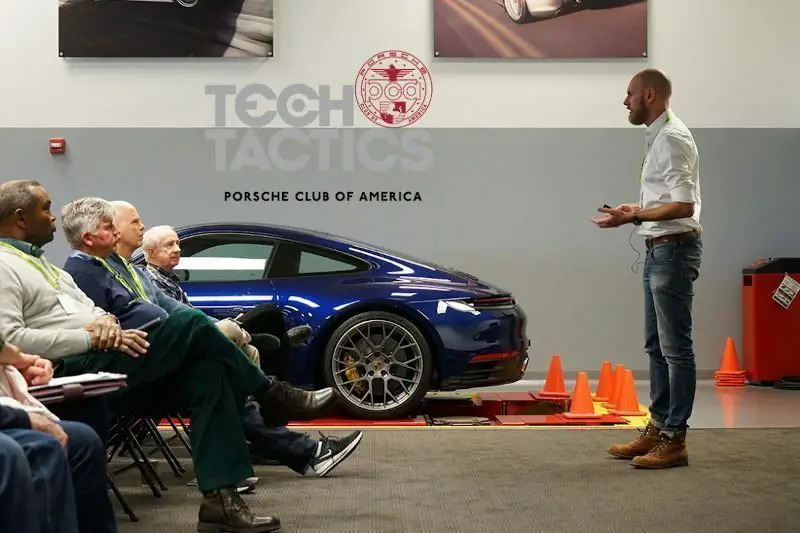 The PCNA Training facility in Easton, PA is the host site for PCA Tech Tactics East. This facility is perfect for this "hands-on" type of event. The PCNA Training facility is used to train Porsche technicians on the intricacies of new Porsches while at the same time providing valuable training on the Porsches of old. It is equipped with the state of the art classrooms with lifts and drive train assemblies which will be available for our event.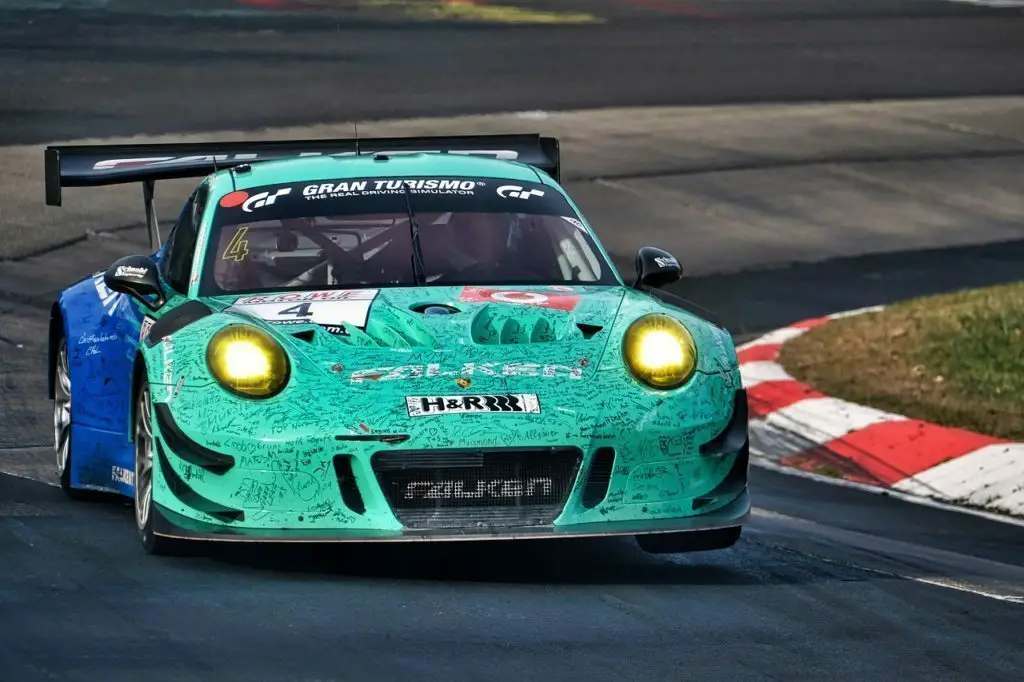 My original Bridgestone tires had a tire wear rating of 6.0 by Tirerack.com. Many PCA members recommend considering switching to the Michelin Pilot Super Sports. Tirerack.com gives the Michelin Pilot Super Sports 2 (PS2) a wear rating of 7.2 and was the highest wear rating when I last did my rear tire replacement.
I will need to replace my rear set of tires (yet again). This time I am looking forward to trying the NEW Michelin Pilot Super Sport 4 tires. Tirerack.com gives the PS4 tires a wear rating of 8.2!!
I shop online for my tires to get the best price and then I ask my tire shop to match the pricing. My NEW PS2s quote was $15 less a tire than my online price.
From the Internet
Top 5 Recommended Boxster Web Forums (Excellent Resource for repairs and advice)
Other Articles of Interest