There are many reasons for considering the Porsche Boxster convertible top replacement. It could be standard wear and tear, an accident, or even because of vandalism or theft.
About Your Boxster Convertible Top
The Porsche Boxster convertible top is made by Haartz and uses a German Sonnenland A5 canvas. It is an excellent design and will have an excellent lifespan if you maintain your convertible top correctly.
It is critical for Boxster drivers to learn the correct procedures for Porsche Convertible Top Cleaning & Conditioning.
Porsche Boxster Plastic Rear Window
Pre-2002 Porsche Boxster 986 came with a rear plastic window. This window does not age well and is prone to failure. The plastic does not age well and yellows when left outside in the sun. UV radiation causes a breakdown of the plastic and the yellowing of the rear window.
Issues with Porsche Boxster Plastic Rear Windows
1.0 Cracked Rear Windows – "Boxster Chop"
If you own a Porsche Boxster with a rear plastic window then it is important that you learn and use the "Boxster Chop" anytime that you raise or lower your roof. Failure to do the "Boxster Chop" will result in your window cracking prematurely. This issue increases when you operate the convertible top at low temperatures.
1.1 How to do a Boxster Chop?
When you lower your top, open the top just enough to start the rear window folding.
Get out of the car and do a 'chop' with your arm/hand and make a nice even crease/fold in the window.
This will ensure that when you open the top all the way, the rear window does not develop a compound fold or crease.
2.0 Scratches
As the Plastic window ages, it is prone to get scratched. Scratches will impair visibly and should be addressed accordingly.
3.0 Yellowing or fading of the Rear Window
Oxidation and UV radiation will cause the clarity of the rear window to significantly fade. This makes your car look old. This can similarly happen to your front headlights (Porsche Boxster headlight restoration).
It is possible to have your plastic window cut out and a new window restitched in.
Often the cost of replacing the window is equal to or more than the replacement cost of a completely new convertible top.
Before Buying a New Boxster Convertible Top
You need to take the time to fully inspect all aspects of your convertible top mechanically. You need to ensure that your car is ready to have a new convertible top installed.
Here are some key aspects for you to review before proceeding.
1 Check Convertible Top Push Rods
Put your convertible top in maintenance mode (or service position). Simply open your convertible top and gain access to under the clamshell, do not remove the engine cover (this is not needed.)
Thoroughly examine your convertible top push rods. You are looking for
Broken push rod caps (very common issue.)
Bent push rods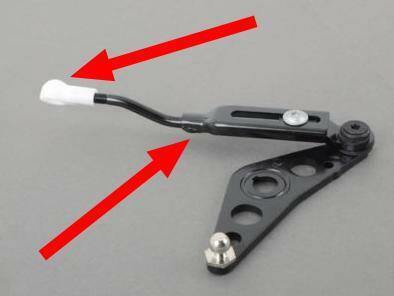 Every Boxster owner will experience a broken push rod cap. You will know that you have broken the plastic pushrod cap as it produces a distinctive loud bang as it breaks and one side of your convertible top will shift hard to the close position (1-4 inches.) It is straightforward to fix, and we have a dedicated article on this entitled Broken Porsche Boxster Convertible Top Push Rod.
2. Ensure your CabRIO Guide Rails are Fully Lubricated
With the convertible top still in service mode, review your left and right cabRIO guide rails and ensure they are properly lubricated. White Lithium Grease can be applied using a cotton swab. This lubrication is one of your first steps. If your roof is making any noises (creaking or cracking, but not popping) when in operation.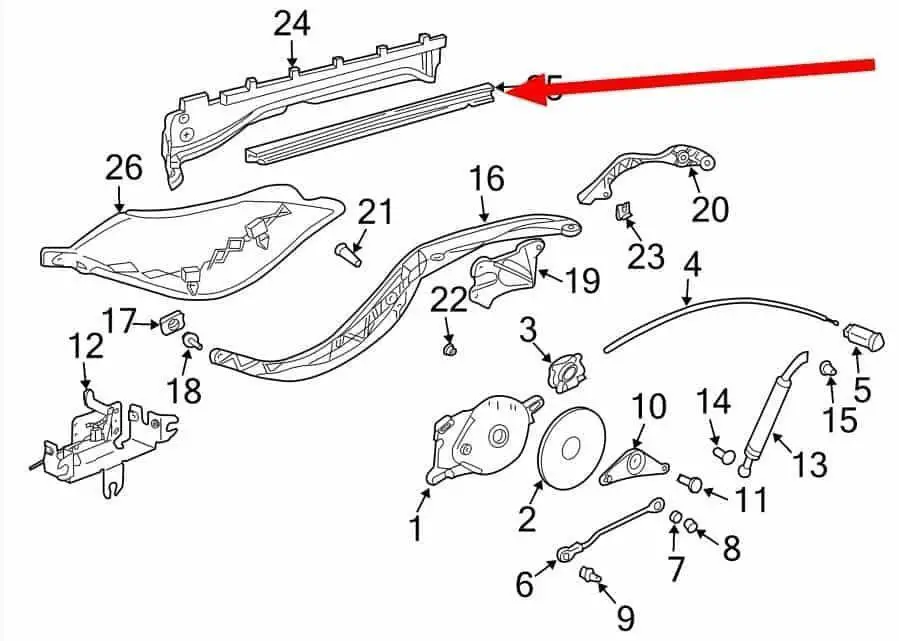 We recommend that you lubricate your CabRIO rails yearly using lithium grease and a cotton swab. Below is an excellent video for reference on this maintenance, however, we do not recommend openly spraying lubricant under your Boxster's clamshell.
3. Listen to your Convertible Top Transmission
With your convertible top returned to normal setup (not in service mode), carefully listen to your convertible top for any popping noises as it opens and closes. You are listening for any abnormal sounds coming from the convertible top transmissions (you have 2 of these transmissions, left and right.)
For reference, the photo above depicting the CabRIO channels (for lubrication) also shows the Convertible Top Transmission (Part #1.)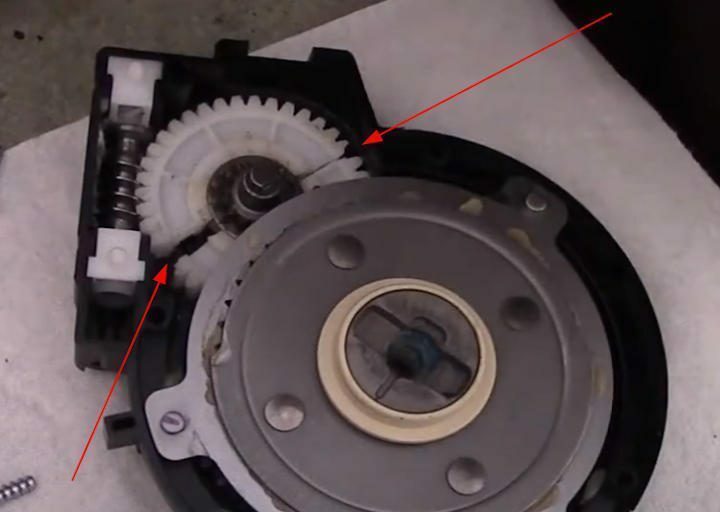 It is very common for the nylon gear to break from inside the convertible top transmission. The gear is designed to break (similar to the plastic pushrod caps) if the convertible top is experiencing out-of-specification threshold loads.
Proceeding to do the Porsche Boxster Convertible Top Replacement
So, your convertible top mechanics are in excellent condition and have been maintained properly. Thus your convertible top is experiencing one of the following:
Wear and Tear
Theft or Vandalism (Convertibles are easy prey for theft and anyone with a knife can slice open your convertible top for easy entry.)
Damaged Rear Plastic Window. (The rear plastic window has a very high rate of failure due to age, usage, and environment)
At this point, we recommend reading Project 70 in 101 Projects for your Porsche Boxsters. This dedicated chapter has 40 color photos that walk you through the replacement of your Porsche Boxster Convertible Top.
Sale
Informed Consent
101 Projects for your Porsche Boxsters lists the Replacing the Convertible Top as taking 16 hours to complete and rates the repair as a 5 wrench repair in level of difficulty. Note: 5 wrenches is the highest difficulty rating.
If you're looking to repair the rear plastic window on an early Boxster 986 (pre-2003), please keep in mind this upgrade and the costs involved. In many cases, the complete replacement of the convertible top (with glass window) will be lower than the repair of the rear plastic window itself. Especially if you can do the installation yourself.
Porsche Boxster Convertible Top Replacement Options
In the last few years, Amazon has an excellent selection of Porsche Boxster Convertible Top Replacement options. Pricing is competitive and the purchaser can save a lot of money when doing this repair.
Bestseller No. 1
Sale
Bestseller No. 2
Bestseller No. 3
Convertible Soft Top Push Rod Ball Joint OEM Repair kit for 986 987 Boxster
Repair Kit Includes: 2 X Porsche 986 987 Boxster Convertible Top Push Rod Ball Joint
If you own a Porsche 986 Boxster, more than likely your convertible top will suffer from the infamous broken plastic push rod end. Porsche used a plastic end on the push rod used to operate the convertible top. These plastic ends are notorious for breaking and unfortunately can set you back $150 if you have to buy 2 new push rods since the dealer does not sell the plastic end piece separately.
The Plastic used is the mixture of glass fiber which i heat resistance and durable.
Porsche Applications: Boxster (1997-2012)
Bestseller No. 4
Sale
Bestseller No. 5
Rldym 98656127902 Convertible Top Rod Compatible with Porsche Boxster 1997-2012 2Pcs
🚗【APPLICABLE VEHICLES】Compatible with 1997-2012 Porsche Boxster. Please check the vehicle model carefully to ensure that it is consistent with your vehicle parts
🚗【REPLACEMENT NUMBER】REPP351802, 98656127902, 98756127900. Please carefully check whether the replacement oe number and applicable vehicles is consistent with your convertible top rod parts to avoid an unpleasant shopping experience!
🚗【PLATINUM QUALITY】All convertible top rod undergo rigorous testing before being sold. Easy Installation, very durable ensure has a longer lifespan
🚗【HIGH PERFORMANCE】This Convertible Top Rod built according to the highest standards of quality and precise specifications, which is more reliable and stable
🚗【AFTER-SALES SERVICE】When you receive convertible top rod products, if you have any questions, please feel free to contact us, we will solve the problem for you within 35 hours
Also, be sure to check out our "Best Of" Series:
Other Articles of Interest
Last update on 2023-12-10 / Affiliate links / Images from Amazon Product Advertising API